One of the questions I see flying by in various groups about histamine intolerance is what on earth to do in terms of salad dressings now??? So in this weeks post I want to share 4 of my go to salad dressings, featured on this blog so far 😀
Classic Low Histamine Vinaigrette
The first salad dressing is also a super simple one, and the first featured here on the blog. The original post never really got a lot of love, which is actually a bit of a shame, since it is a quick and delicious salad. It was originally published early January 2017, back when I still hadn't figured out that natural light verses my kitchen lights was the way to go in terms of making yummy looking photos of food 😀 The Salad itself features a bunch of antihistamine fruit and vegetables, and at the time I chose to call it "Red and Green Salad with Chicken". It is still one of my favorite salads and one that I make quite often. I might rewamp it at some point in the near future, as it really does deserve some love and some pretty photos to do it justice <3
The dressing itself is simple and classic mix of oil and vinegar. And now you might be pulling your hair out and say vinegar is not allowed on a low histamine diet….. But hold your horses and hear me out 😉 Not all vinegar's are created equally, some sort of vinegar's are lower in histamine than others. Like apple cider vinegar. The SIGHI list (Swiss Interest Group Histamine Intolerance) categorizes apple cider vinegar as a 1 on a scale of zero to 3, whereas balsamic vinegar and red/white wine vinegar's are a category 3. BTW, white distilled vinegar is a category 0, if you want to go very low on the histamine scale! I haven't been able to find it in the Netherlands though…..(if anybody has a tip, I'm all ears). Still with these lower histamine vinegar's options, for some people vinegar's are just a no go, in that case a small amount of freshly made (sour) apple juice, or apple sauce from a more sour variety of apples makes a great alternative. Note if you use apple sauce, you also get a thicker salad dressing.
Low Histamine Pomegranate Salad Dressing
The second dressing is a variation of the first, where the apple cider vinegar is replaced by fresh made pomegranate juice. It was originally published as part of my recipe for Pumpkin Cauliflower Quinoa Salad with Pomegranate Dressing, last fall (November 2017). If you can't be bothered to press the pomegranate juice yourself, you can of course use store bought pomegranate juice instead.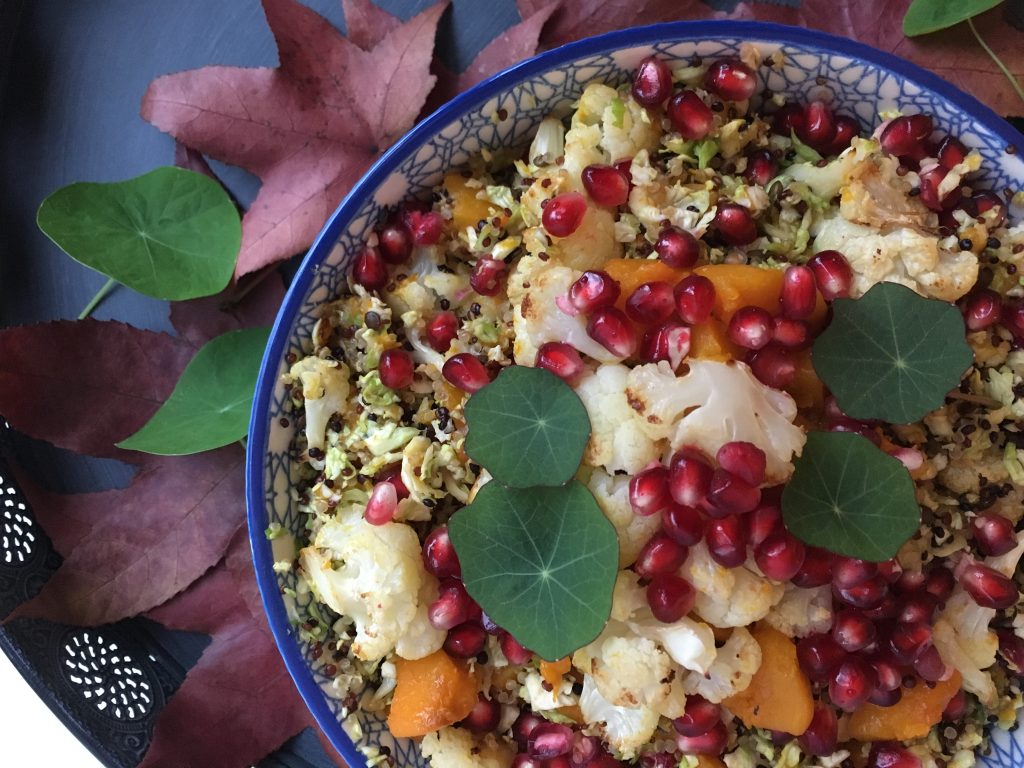 Low Histamine Blueberry Salad Dressing
Are you sensing a bit of a fruit theme going on here? Blueberries (and other tolerated berries) are great in salad dressings, since they are naturally tart. For this blueberry salad dressing I used dried blueberry powder, which not only gives the dressing a beautiful color, but definitely brings that tartness I enjoy in a great salad dressing. If you don't tolerate dried blueberry powder you can also use fresh or frozen blueberries.
This Low Histamine Blueberry Salad Dressing goes perfect together with the Histamine Friendly Blueberry Duck Salad, which I posted during my salad craze in January earlier this year (January 2018).
Low Histamine Kale Pesto
You might think that pesto is meant to go on top of pasta, but it is actually also great as a salad dressing. I make my Low histamine with out Parmesan cheese, making it both vegan and dairy free in one go 😉 I usually vary the seeds and nuts in my pesto from time to time, but some of my favorite seeds and nuts to add is hemp seeds, macadamia nuts and pistachios. The beauty of making these kind of things yourself is that you adapt it to your tolerance level. If you don't tolerate any kind of nuts and seeds, you can add a little creaminess to your pesto by adding a little steamed broccoli or zucchini.
I use pesto for all kinds or things like, pasta sauce, salad dressing, pizza sauce and sandwich spread. This kale pesto is great in this Low Histamine Brussels Sprout Chicken Pesto Salad, also published during my salad craze in January earlier this year (January 2018). Below is two other of my recipes making use of Low Histamine Pesto 😀
Other sources of inspiration for Low Histamine Salad Dressings
Since this post is meant to inspire you in terms of salad dressing options on a Low Histamine diet, I found a few other recipes out there, for you guys 😀
First of give it up for Randi Tisdall from Bohemian Vegan Kitchen with her "Low-Histamine Vegan Salad with Chia "Ranch" Dressing"
Or how about this beautiful "Kale Salad with Herb Dressing" from the beautiful and talented Nathalie Gleitman from Nathalie's Cuisine
Third I would like to call attention to this very simple salad "Low Histamine Crispy Chicken with Mango Sauce" from Low Histamine Diet Tips and Recipes
I hope you are all ready to pimp up your salads with one of these Low Histamine Salad Dressing 😀
Print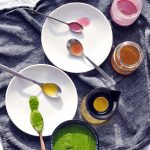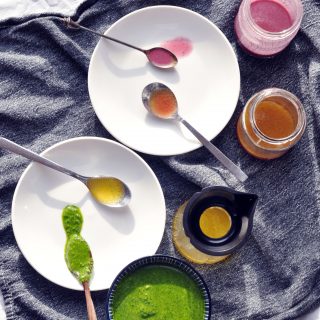 4 Low Histamine Salad Dressings
Author:

Prep Time:

5-10 mins

Total Time:

14 minute

Category:

Salad dressings
---
Description
4 of my go to Low Histamine Salad Dressings 😀 Pimp up your salads 😉
---
Ingredients
Classic Low Histamine Vinaigrette:
1 tbsp

(extra virgin) olive oil

1 tbsp

apple cider vinegar

1 tsp

honey
a small pinch of salt
Low Histamine Pomegranate Salad Dressing:
the juice from 1/2 a pomegranate

1 tbsp

(extra virgin) olive oil
a small pinch of salt
Low Histamine Blueberry Salad Dressing:
Low Histamine Kale Pesto:
ca. 20 g baby kale (0.7 oz)
ca. 25 g basil (0.9 oz)

1 tbsp

hemp seeds

1 tsp

pistachios (raw, unsalted) – optional

4

–

6

tbsp (extra virgin) olive oil

1

small spring onion
a small pinch of salt
---
Instructions
For the first three dressings:
Just add all the ingredient to a container, with a liquid proof lid
Put the lid on and give is a good shake, and it is ready for use.
Low Histamine Kale Pesto:
Add the greens (baby kale and basil), hemp seeds, optional nuts, a small spring onion, extra virgin olive oil and a pinch of salt into a container that fits a hand held blender.
Blend it till it has the texture you prefer.
Add more extra virgin olive oil if you want it to be thinner.
---
Notes
Note the portions are for 1-2 people, you might need to scale up the recipes depending on your preferred dressing/salad ratio, and the amount of people you plan on serving.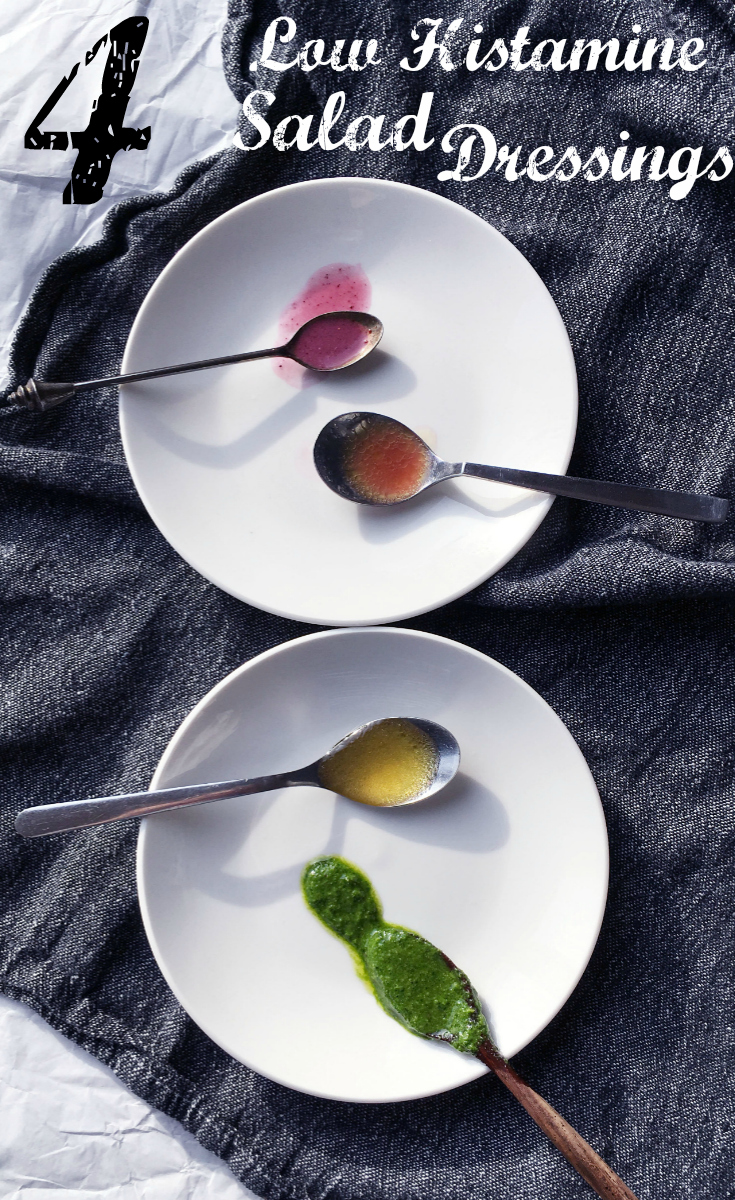 In all disclosure the link to amazon above are affiliate links, which means that if you click on to the product in question and buy it, I get a small commission. This will hopefully help me to cover some of the costs to running this blog. However, this does not cost you anything additional when you order through one of these links.