So, it has been too long since I posted. We have been plagued with a massive cold/throat infection in my house, plus having been a bit extra busy on the work front. All in all that meant not enough time and energy for everything. But lets hope this was the only virus we have to endure this winter (knock on wood ;). So in the spirit of runny noses, sore throats and a gut that needs some serious healing I want to share this bone broth recipe with you all. When dealing with Histamine Intolerance (HIT) it is important to remember to not only focus on what to eliminate from your diet, but to also focus on what kinds of food help you to heal. And bone broth is one of those healing foods, really good for healing your gut. Bone broth is smack filled with nutrients like essential minerals (calcium, magnesium, potassium), phosphor, silicon, sulphur, collagen, gelatin, glucosamine etc.
I let my broth simmer for about 4 hours, instead of the 8-12 hours usually recommended. This will go a long way for making it more histamine friendly. If you still have a reaction to bone broth made in this way, you can try making it in a pressure cooker, which will allow you to bring down the cooking time significantly. The blog delicate belly has two recipes for low histamine bone broth and low histamine chicken broth made in this way. To help release all the nutrient from the bone you can add something acidic like some lemon or vinegar (apple cider vinegar, or distilled white vinegar), if tolerated of course. I find I do okay with both lemon and apple cider vinegar in small amounts. I got this great tip from Fiona Long, whom I follow on instagram. In general social media is a great way to find inspiration for what you can eat when dealing with HIT, just remember we are all individuals, so listen to your body. Fiona tells me that she originally got it from Dr. Axe, who has a great to the point article about the health benefits of bone broth.
For this recipe, I made used of both cow and chicken. I used chicken wings with both meat and skin on it, I cut each wing into two pieces (separated at the joint), and some marrow bones (cow). One of the things I have changed since if found out that excess histamine was a problem for me is where I get my meat. I don't buy vacuum packed meat from the supermarket anymore. Now I get all my meat from the butcher. When I buy the meat I always ask them how fresh it is, and what has been added to it. That way I for instance found out which days of the week my butcher has the freshest ground meat, which is extra good to know since ground meat spoil faster than non ground meat. If you are dealing with HIT, I definitely urge you to find a good butcher 🙂 Buy fresh and good quality meat, it is alpha-omega.
For extra flavor add in some veggies and herbs of you choice, for this recipe I used leek, carrot, parsnip, celery, and white onions. The white onions are lower in histamine than the yellow onions. I fried up the onions in a bit of olive oil before adding the other ingredients. This step is totally optional, but I find that it helps bring out the sweetness of the onions. For the same reason I brown part of the chicken wings as well before adding water to the pot. Note this also give a slightly darker broth.
In terms of herbs, I used a mix of parsley, sage, rosemary, thyme, oregano and a couple of laurel leaves. I don't normally add pepper or garlic to my broth, because I don't react very well to spicy foods and I'm very sensitive to garlic. But if you tolerate any of them, please do add it. Note if you are making a broth with a more Asian vibe including turmeric, it is worth adding a little black pepper, because the piperine, in black pepper, increases the uptake of the curcumin, in turmeric, to the blood stream.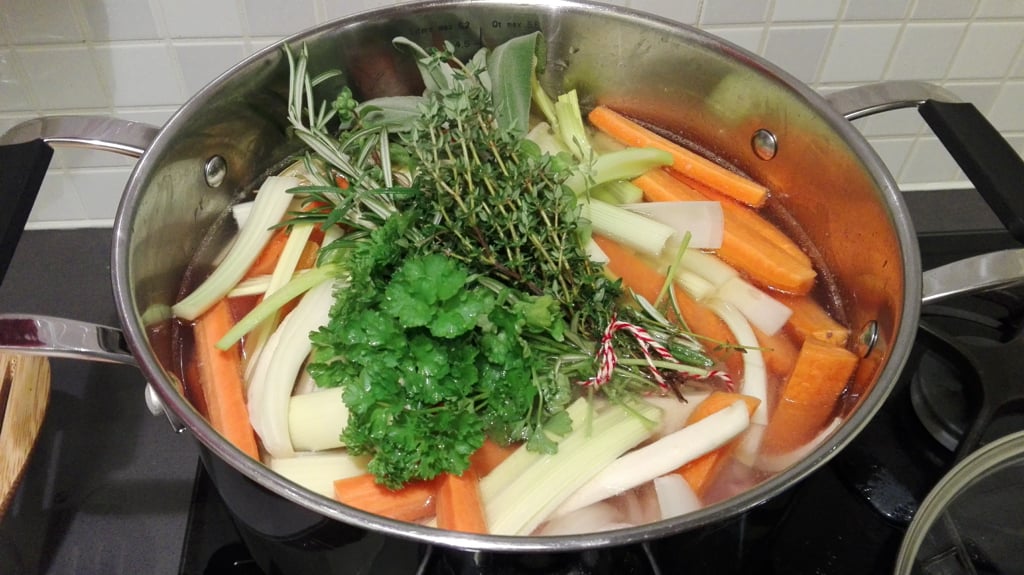 Once you have added the white onion, and the chicken wings (plus optional browning) and marrow to the pot, you can add in veggies and herbs of your choice. Cover with water, add (sea)salt, and slowly bring to a boil. If you want to add lemon or apple cider vinegar, do so before the water boils. Once it boils reduce the heat, and let the broth simmer for about 4 hours (longer if you know you tolerate it). Remove any scum as it arises.
Turn off the heat after about 4 hours and let the broth cool slightly before straining it. Transfer the strained broth to containers and and let them cool before placing them in the freezer, or use the broth straight away.
Once the broth has cooled, a layer of fat has formed on top of the broth, you can remove this part if you want a less fat broth. If you do remove it, wait until you are using the broth, as the fat layer also offers a layer of protection for the broth. Just for illustration purposes I poured mine into some flasks, with a narrow neck, then you can clearly see the fat layer being formed.
But please note, that this is not very handy in use, it was fairly difficult to get the broth out of the flask again after it had cooled.
As a closing remark, visit your butcher and get cooking, I promise you it is worth your time……. It is healthy, healing, taste great, and gives your whole house a wonderful smell. For me it so smells like my moms kitchen……… total nostalgia 🙂 Enjoy.
Print
Bone Broth
Author:

Prep Time:

15 mins

Cook Time:

4 hours

Total Time:

4 hours 15 mins

Yield:

ca. 2 liter
---
Ingredients
½

kg marrow bones

1

kg chicken wings with skin

2

white onions

2

big carrots

1

leek

1

parsnip

2

bay leaves

1

big bunch of herbs (parsley, thyme, rosemary, oregano, sage)
salt to taste

1 tbsp

apple cider vinegar (optional)

1 tbsp

olive oil (optional, only necessary if you brown the onions and chicken wings)

2

liter water
---
Instructions
Heat up the olive oil in a large soup pot, add the onion and fry them till the go clear.
Once the onions are clear add in about half of the chicken wings and brown them slightly while stirring.
Add the rest of the chicken wings, the marrow bones, veggies and herbs. Cover with water and salt and the apple cider vinegar (optional). Give in good stir and slowly bring to a boil.
Once it boils reduce the heat, and let the broth simmer for about 4 hours (longer if you know you tolerate it). Remove any scum as it arises.
Turn off the heat after about 4 hours and let the broth cool slightly before straining it. Transfer the strained broth to containers and and let them cool before placing them in the freezer, or use the broth straight away. Enjoy 🙂