During this winter we as a family has been eating a lot of oven roasted veggies. Especially a lot of crispy sweet potato fries. And I have really been missing ketchup. I don't know if it is the taste of ketchup so much as just being able to dip the fries in something. So along came this carrot ketchup 🙂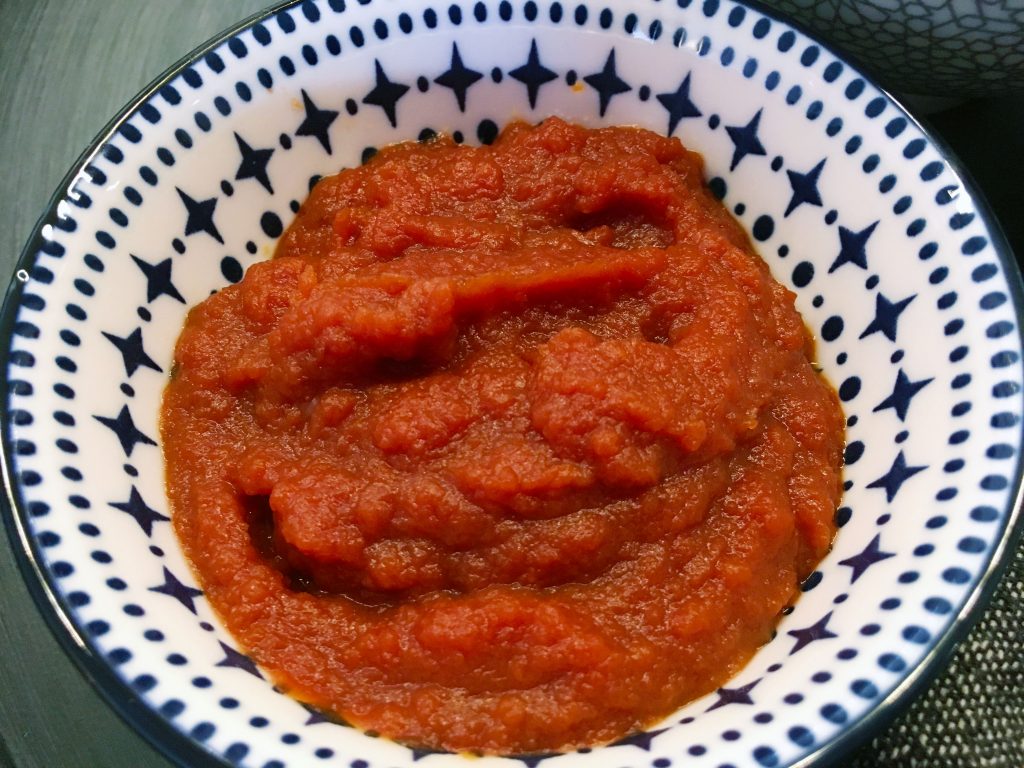 There are a lot of recipes for "nomato" ketchup out there, and I have tried out a few of them. After having tested a few recipes and I have come to the conclusion that I prefer mine without vinegar. So I came up with this recipe using apples instead of the combination of sugar and vinegar which you see in a lot of recipes.
So here is what I did: Clean and peel the carrots and the apple. I used a mix of orange and purple carrots to give it more of a red color. Steam the carrots and apple. Peel the red onions and cut them into quarters. Fry the onions in a bit of coconut oil on a pan, till they start to caramelize. Check the carrots and apples to see if they have had enough, by pricking them with a fork, if the carrots fall of the fork again they are ready. Transfer the carrots, apple, and caramelized onion to a container in which you can blend them (or put it all in your blender or food processor). Add the spices and a bit of the steaming liquid, save the rest of the steaming liquid, in case you need to adjust the consistency after blending. Blend and adjust the consistency to your liking with a bit more of the steaming liquid. Salt to taste.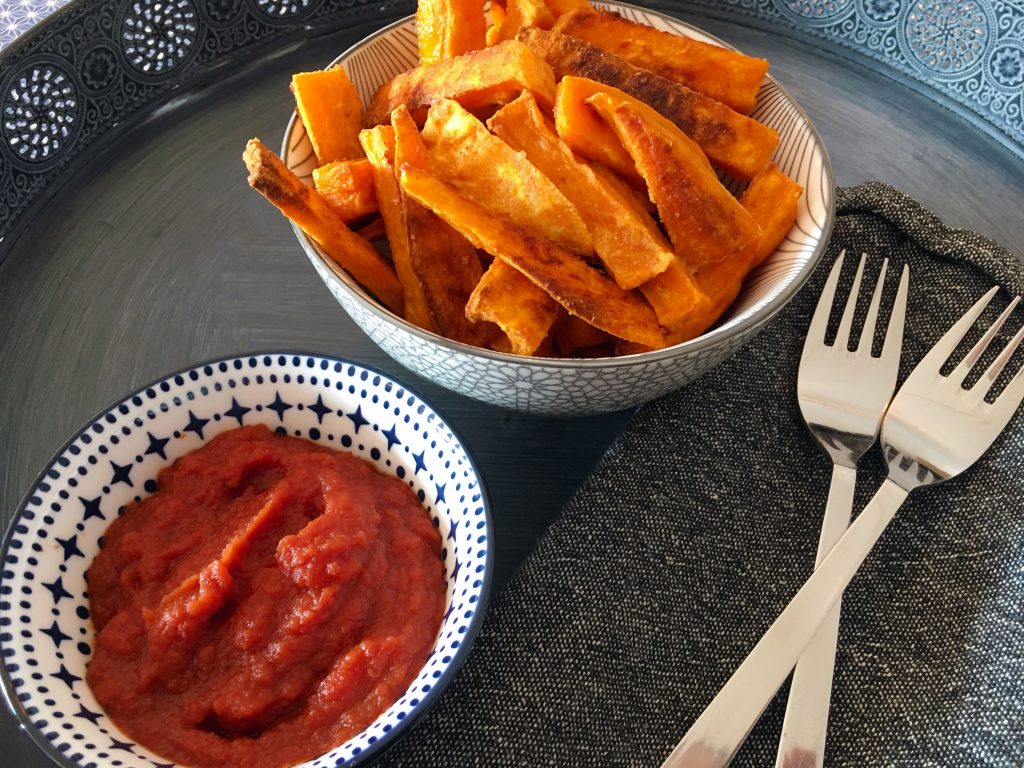 Serve it up with some crispy sweet potato fries. The trick to getting the sweet potatoes crispy is to cut them out thinly and evenly, then soak them for about 20 minutes. Drain the water, transfer the sweet potato sticks to a tea towel and pad them dry. Dry the bowl you used to soak them in and put them back in the bowl with a tbsp of gluten free flour, corn starch or potato starch per big sweet potato. Toss the sweet potato sticks with the flour till they are all evenly coated. Transfer to a baking tray lined with baking parchment. Discard the excess flour. Sprinkle the sweet potato sticks with olive oil, salt and spices or herbs of your choice. Enjoy 🙂
This recipe yields about 600 mL (ca. 2 1/4 cups), which is of course more than what any one person can eat. So freeze down what you don't eat right away in small portions. That way you always have some ketchup at hand when you need it 😉

Carrot Ketchup
Tomato free Ketchup,with no added sugar or vinegar
Author:
Tania Surrow Larsen, The Histamine Friendly Kitchen
Ingredients
4 carrots, 3 orange and 1 purple (in total ca. 400 g)
1 apple
2 small red onions (ca. 80 g)
1 tsp coconut oil
¼ tsp salt
¼ tsp turmeric (optional)
¼ tsp paprika (optional)
ca. 40 mL water (use the steaming liquid (ca ⅙ cup)
Instructions
Clean and peel the carrots and the apple. I used a mix of orange and purple carrots to give it more of a red color. Steam them.
Peel the red onions and cut them into quarters. Fry the onions in a bit of coconut oil on a pan, till they start to caramelize.
Check the carrots and apples to see if they have had enough, by pricking them with a fork, if the carrots fall of the fork again they are ready.
Transfer the carrots, apple, and caramelized onion to a container in which you can blend them (or put it all in your blender or food processor). Add the spices and a bit of the steaming liquid, save the rest of the steaming liquid, in case you need to adjust the consistency after blending.
Blend and adjust the consistency to your liking with a bit more of the steaming liquid.
Salt to taste.
Serve them up with some delicious sweet potato fries, or which ever veggie fries you prefer. Enjoy 🙂