Please note that this page is under construction, and thus NOT at all finished yet!! Therefore please view the information provided on this page as part of a larger picture, and remember I'm not a doctor and therefore cannot give any medical advice. Always consult a licensed practitioner before you add anything new to your diet. Remember what is useful and helpful to some, can be harmful to others.
Gut health 101
In order to work on your healing, you need to address your gut. I cannot stress this enough. And in order to address you gut you need to know a little bit about what is going on down there…. So here is a little overview of how your gut looks like and function. Please excuse me if I nerd out a bit on this topic. My inner nerd is going all YAY \o/ about the thought of explaining all of this to you guys right now. And even though my inner nerd is pretty awesome, please let me know if you read something on this page which is down right wrong or outdated.
Anatomy of the Intestines
Below you see a picture of the intestinal epithelium, which is a single layer of cells (epithelial layer). The epithelial layer creates a physical barrier separating the inside of your intestines also called the lumen (where your food pas through, and gut bacteria lives) from the underlying lamina propria and supportive muscle tissue plus of course the rest of you body. The cells of the epithelial layer are joined together by tight junctions thus forming a contiguous and relatively impermeable membrane. It has two important functions: absorbing nutrients (small intestine) and water (colon) and providing a barrier against harmful substances. Some diseases and conditions are caused by dysfunction in the intestinal epithelium, and some diseases and conditions cause problems with these cells, which then leads to further complications.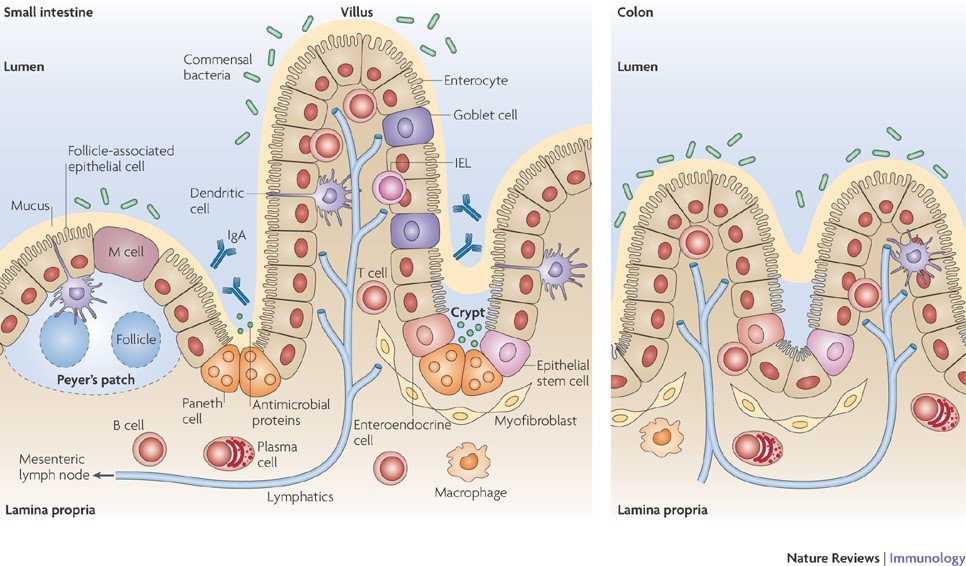 In the small intestine, the mucosal layer is specially adapted to provide a large surface area in order to maximize the absorption of nutrients, the surface is increased by circular folds, a micro mountain landscape with tops (villi) and valleys (crypts) and finally the microvilli (c) covering the top of each epithelial cell.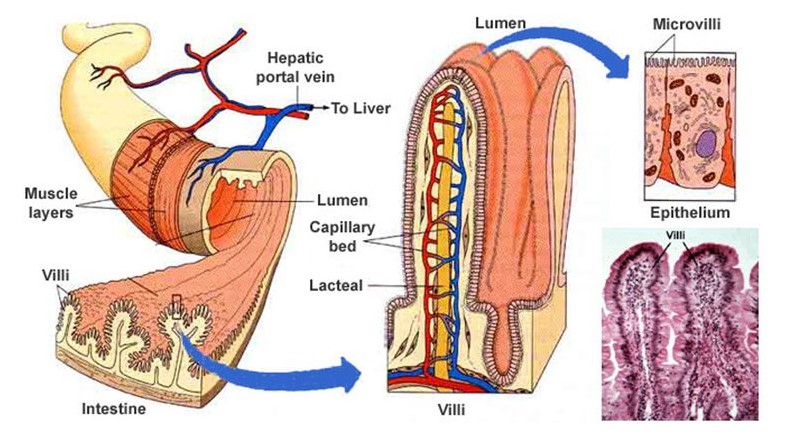 Different kinds of cell types are represented in the epithelial layer, these types include enterocytes, goblet cells, enteroendocrine cells, Paneth cells, M-cells, and crypt cells among others. The distribution of these cells vary through out the intestines. Of these cells the enterocytes are the most numerous and function primarily for nutrient absorption. Enterocytes produces a number of catabolic enzymes including diamine oxidase (DAO) which breaks down histamine in the intestines (histamine originating from ingested food and intestinal bacteria).
Gut Microbiota
You have probably heard the saying that we are more bacteria than human…. This saying originates from the fact that there are far more bacteria's in our gut and on our skin than there are cells in our entire body.
The gut flora (gut microbiota) is the complex community of microorganisms that live in our digestive tract, where you have a mix of the good, the bad and the ugly. Ideally you want to have a wide variety of intestinal bacteria, and a good balance among them. They all have different properties and benefit you in different ways. For instance you gut bacteria's who helps stabilize the intestinal barrier (e.g. Faecalibacterium prausnitzii and Akkermansia muciniphilla). Then you have gut bacteria which ferments dietary fiber into short-chain fatty acids (SCFAs) like butyric acid, which is basically food/fuel for the epithelial cells, along with being anti-inflammatory (e.g. Faecalibacterium prausnitzii, Eubacterium rectale, and Roseburia spp.). These bacteria are thus essential to your gut health. Some gut bacteria even helps protecting you against pathogens (Bifidobacteria).  Intestinal bacteria also plays a role in the synthesizing of some of the vitamin B's and vitamin K, which is essential for your health and energy level. A dysregulation of the gut flora is correlated to increased inflammation and autoimmune conditions. 
Your diet
provides
the
main
energ
y
source
for
the
gut
microbiota 
and
is
thus
expected
to
play
a
major
role
in
dictating
which 
bacteria
are
able
to
thrive
in
the
large
intestine.
Food and Supplements for gut health
More info will follow at a later point……
Collagen: Collagen is a naturally occurring protein that is found the most in flesh and connective tissues. Collagen also contains many different amino acids, and most collagen supplements are high in glycine and proline. Glycine promotes relaxation and sleep, helps improve insulin insensitivity, reduces inflammation, improves digestive health, protects the mucosal barrier (read anti-leaky gut compound!!), and improves the function of the entorocytes in the epithelial layer. Remember the enterocytes are the most abundant type of cells in the single cell layer forming the barrier between the inside of the intestines and the rest of your body, their jobs are to absorb nutrients and produce enzymes including diamine oxidase (DAO). Glycine also protects the liver and aids in detoxification and bile acid production, along with regulating the stomach acid production. Proline is used in the body to complete protein synthesis, proper metabolism, reduce atherosclerosis, and regulate immune responses.
If you want to add collagen to your diet, I recommend you build it up slowly start with 1/2 tsp and increase the amount bit by bit. You can dissolve it in water, add it to your smoothies, juices or soups. Or make gummy bears with gelatin 🙂 Or make your own bone broth. I started slowly about a year ago with making my own bone broth (only boiled it for 4 hours due to histamine issues). I have slowly been increasing the cooking time of my bone broth and now I boil it for 12 hours. Next step is 24 hours I think. And I have been eating or drinking bone broth several times per week since then. A couple of months ago I started adding hydrolyzed collagen to my routine on the days I wouldn't eat/drink any bone broth. Slow and steady wins the race…..
Prebiotics
A prebiotic is "a selectively fermented ingredient that allows specific changes, both in the composition and/or activity in the gastrointestinal microflora that confers benefits upon host well-being and health." (Roberfroid, Journal of Nutrition, 2007)
Different types of prebiotics include (but is not limited to): fructo-oligosaccharides (FOS), galacto-oligosaccharide (GOS), inuline, arabinogalactan (AG), resistent starch, pectine, betaglucan and xylo-oligosaccharide (XOS)
I plan on making an overview of the different types of prebiotics, which foods they are found in, and which type of bacteria they benefit. But first I need to find the time to figure out how to code tables in HTML 😉 It can't be that difficult, right? But anyways, until then The Histamine Coach, Alison Vickery wrote a really good article about this topic not so long ago, which you should really check out.
Prebiotic supplements
More info will follow at a later point 🙂
Acacia fibers (arabinogalactan, AG): These dietary fibers helps raise the total amount of gut bacteria (especially F. prausnitzii, bifidobacteria, and lactobacillus) along with increasing the diversity. Boosts the productions of butyric acid and propionic acid (food for the cells in the gut lining), and decreases the pathogenic Clostridium perfringens bacteria and the production of ammonium in the large intestine. All good things for the gut 🙂 It works anti-inflammatory, boosts the immune system (positively influence NK cells, macrophage activities and pro-inflammatory cytokine production) and has even been shown to protect rats again mercury poisoning (Now I know rats are not humans, but it still says something about the powerful benefits of this type of prebiotic). On top of that it has been shown to lower blood sugar and insulin levels, so if you are struggling with these issues, this might be something for you (remember to talk it over with your GP first though….)
Be aware that this prebiotic can slow down the absorption of some drugs from the intestines. So if you are taking any kind of medicine, please consult your GP before you add this to your diet.
If you want to try acacia fibers (arabinogalactans, AG) as a prebiotic, I suggest you take in maximum five to ten grams per day (30 g per day is the maximum dosage studied with little to no side effects). Start with like 1/4 tsp and build it up slowly 1/4 tsp at time till you reach 1 tsp, then you can increase the dose faster. I have been able to build this up over a long period of time. And I use it as an add in in my smoothies or soups. I don't take it every single day, rather approximately every two days (1 topped tsp). Be aware that not everyone can tolerate prebiotics, so if it causes excessive side effects like flatulence and bloating after a few days of consuming it, it might be best to try lower doses or discontinue its use. However acacia fibers (arabinogalactans, AG) have been shown to cause less flatulence and bloating than Inuline, FOS or GOS.
To be continued……
References: