Variations of this salad has been my go to salad the last year, and this is the version I like the most. So even though it is simple, I would like to share it with you all. It is nutrient packed, and as an extra benefit it contains apples and green onions both of which are know to be anti-histamine foods. For more information about anti-histamine foods, check out this article by Alison Vickery.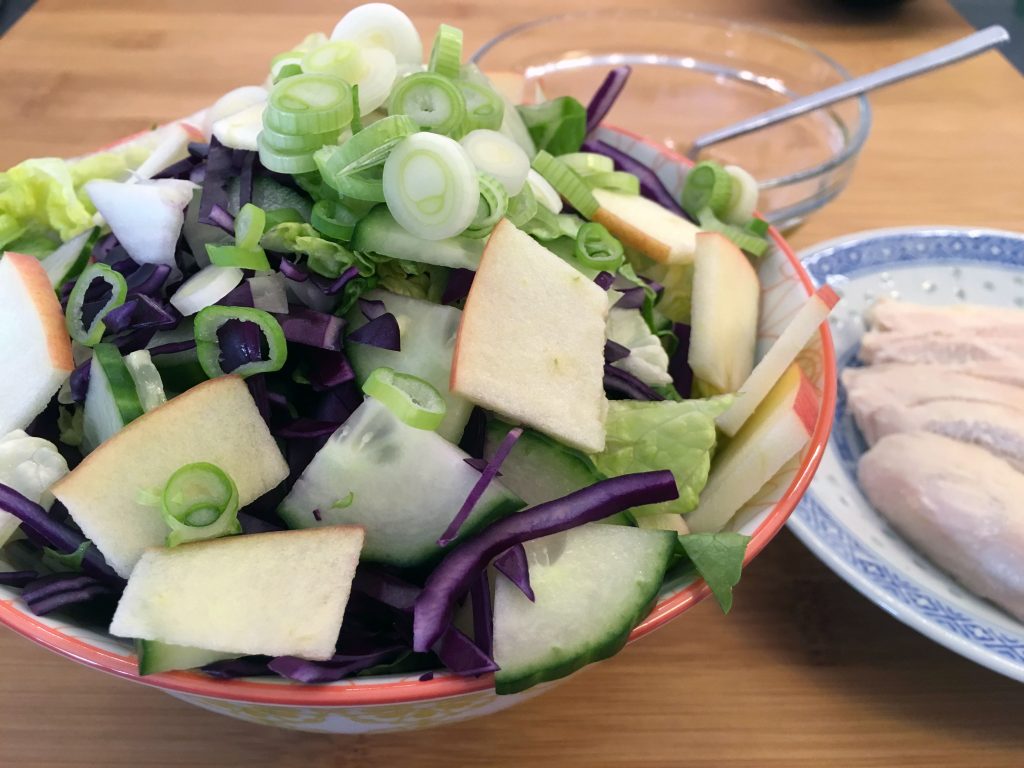 When I make this salad I normally make a big portion of chicken in one go. And then freeze down the leftover chicken, portion size of course. That way I have chicken ready for adding to salads the rest of the month. making it significantly faster to prep for a salad lunch to bring to the office.
You can of course prepare the chicken in any way you would like. But I usually use the oven. If you use this method, you need some boullion or broth. Add some boullion/broth (plus some additional salt if needed) to an oven dish, the amount of liquid and size of the dish of course depends on the amount of chicken you choose to cook. Then add the chicken, it should be at least half covered by the liquid. If you don't have any suitable boullion/broth at hand, pure water works as well. But pure water leaves the chicken a bit bland. If you have no issues with histamine what so ever, you can add some white wine as well. Place the oven dish in the oven and bake for 20-30 minutes.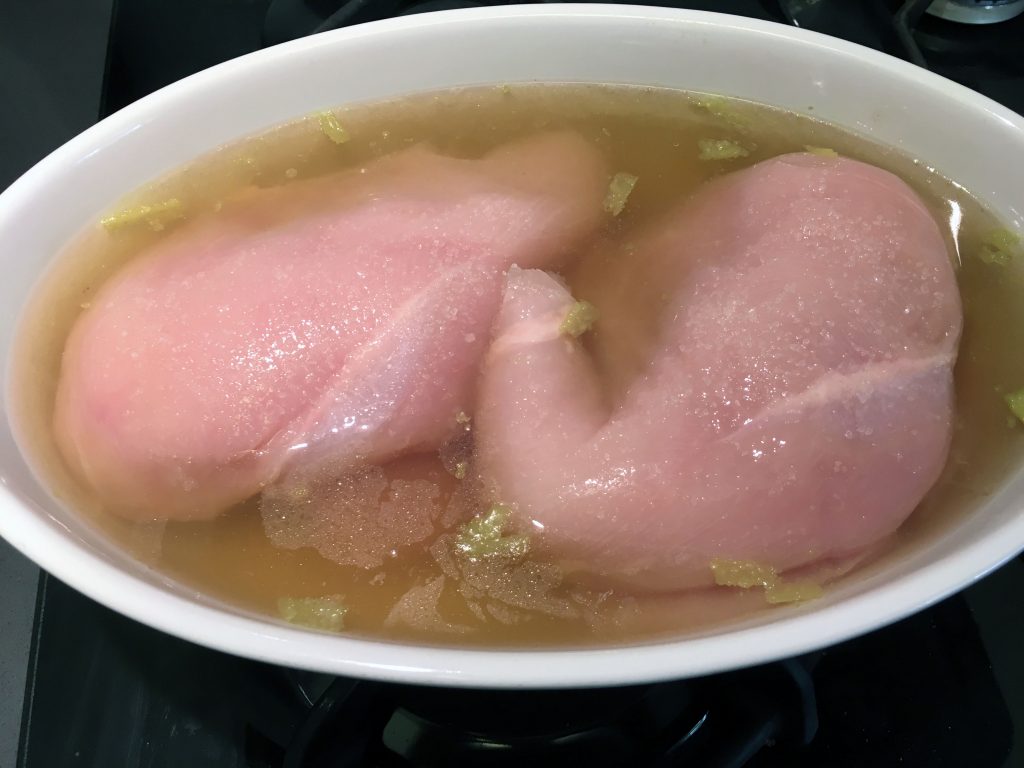 While the chicken bakes, prepare the veggies. Chop the red cabbage and romaine lettuce finely. And slice the cucumber and apple finely at approximately the same size. Slice the green onions thinly. (Note: Onions, apples and cucumber contains quercetin, which is a powerful anti histamine). Mix all the veggies in a big bowl and mix the ingredients for the dressing.
Note this salad is great with or without dressing, so if you are not a dressing fan, just leave it out. I chose to make this dressing with apple cider vinegar, which is low in histamine compared to balsamic vinegar or red and white wine vinegar. Alternatively you can use distilled vinegar, which is classified as histamine free. I can also get away with using a little lemon juice. You have to figure out what works for you.
Once the chicken is done, let it cool a bit before cutting or shredding it. Serve and Enjoy 🙂
P.S. for a bit of extra crunch you can top it with a little crispy fried onions (remember to read the ingredients though, as they often contain gluten).
Print
Red and Green salad with Chicken
Author:

Prep Time:

5 mins

Cook Time:

30 mins

Total Time:

35 mins

Yield:

2

1

x
---
Ingredients
150 g

chicken

2

dl boullion/broth (

3/4 cup

)

150 g

red cabbage

130 g

romaine lettuce

1/3

of a cucumber (ca.

170 g

)

1

apple (ca. 130 g)

2

green onions
Dressing:

2 tbsp

extra virgin olive oil

1 tbsp

apple cider vinegar

1 tsp

honey

1/4 tsp

salt
---
Instructions
Heat up the oven to 180

°C / 355

°F

Add the boullion/broth (plus some additional salt if needed) to an oven dish. Then add the chicken, it should be at least half covered by the liquid. Place the oven dish in the oven and bake for 20-30 minutes.
While the chicken bakes, prepare the veggies. Chop the red cabbage and romaine lettuce finely. And slice the cucumber and apple finely at approximately the same size. Slice the green onions thinly.
Mix all the veggies in a big bowl and mix the ingredients for the dressing.
Once the chicken is done, let it cool a bit before cutting or shredding it. Add to the salad.
Serve and Enjoy. (The nutritional data below, is calculated based on one out of two servings)