Ever since I discovered Goat Ghee (and yes you are reading it correctly! Goat Ghee) my croutons game have been off the charts. I'm telling you I am never going to make croutons in any other way ever again! Which might not be so great for my wallet though, since Goat Ghee isn't exactly the cheapest to come by. But damn I'm telling you these are The Best Ever Pan Roasted Bread Croutons! Best ever, ever, ever…… absolutely YUMMY!
These Pan Roasted Bread Croutons are great in soups, on top of salads for some extra crunch, or even just as a snack in there own rights, if thats the kind of mood your in. Use your favorite bread (or my Easy No Yeast Low Histamine Bread), and the of course the star of the show – Goat Ghee!
As for the recipe it is pretty straight forward. First you need to get your hands on some Goat Ghee, I got mine from Superfood.nl, but I also linked to a product available on amazon.com. Dig out a heaped tbsp worth of ghee, and let it melt in a pan over medium heat, add day old bread cut into little cubes, don't crowd the bread cubes in the pan (I cut up two slices of bread). Sprinkle with salt, I used pink Himalayan salt. Now roast the bread cubes, over low to medium heat, and keep stirring while you keep a close eye on them so they don't burn.
At some point during this process the goat ghee will start to have a rather goaty smell about it. It is okay, that happens in my kitchen too, but don't be alarmed it tastes absolutely divine, and not goaty at all. Once the bread cubes have reached a golden brown color, take the pan of the heat and let the croutons cool down a bit. They will get a more crunchy texture the closer they get to room temperature.
Print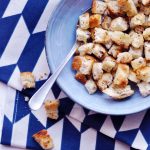 The Best Ever Pan Roasted Croutons
Author:

Prep Time:

2 minutes

Cook Time:

5 minutes

Total Time:

7 minutes

Yield:

1

bowl

1

x
---
---
---
---
*In all disclosure the links to amazon above are affiliate links, which means that if you click on one of the products in question and buy it, I get a small commission. This will hopefully help me cover some of the costs to running this blog. However, this does not cost you anything additional when you order through one of these links.