As some of you may know, freshly made vegetable juice, made with my beloved slow juicer, is one of my ways to keep my "histamine bucket" low. Or simply help my body get better if/when my "histamine bucket" overflows. And this one is made with the super potent anti inflammatory moringa oleifera.
The moringa oliefera gives it a beautiful deep green color. It has a some what bitter taste though, which I balanced out with some apples 🙂 So what is in this green antihistamine juice? And what makes it antihistamine?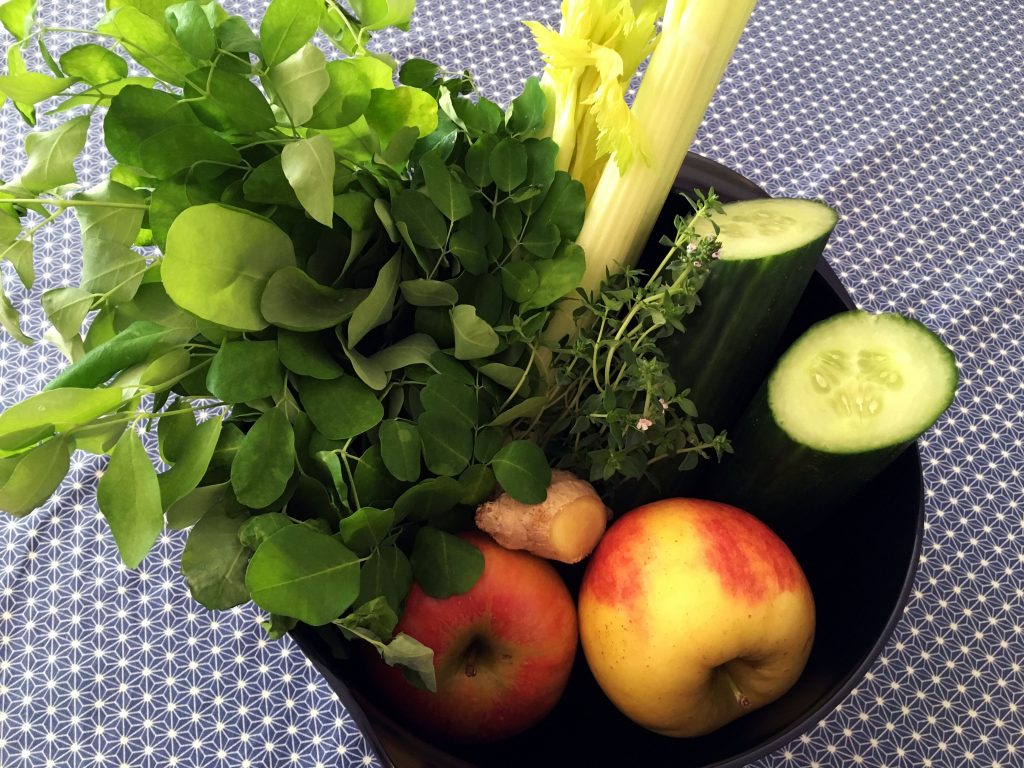 So here are the ingredients for this Green Antihistamine Juice:
Moringa oleifera – super potent anti-inflammatory herb
Cucumber – great for hydration, anti-inflammatory,  contains quercetine -> antihistamine
Apples – contains quercetine -> antihistamine
Celery – good for the blood vessels, liver and digestive tract (also contains quercetine -> antihistamine)
Thyme – nutrient dense herb high in vitamin C (antihistamine) and a mast cell stabilizer
Ginger – mast cell stabilizer
Lemon (optional) – lemons are a histamine liberator, leave them out if lemons are a problem food for you
I often get the question why I choose to add lemon to my juices, even though it can act as a histamine liberator in the body. And for me there are multiple answers to that…. First of all I'm able to tolerate small amounts of lemon in my diet, and therefor add it in small amounts as a taste giver where I feel like it benefits the dish. So I add it to my juices, and use it when I'm cooking fish, among others. And like I said we are talking about small amounts here and always freshly squeezed lemon juice, not the kind that comes in a plastic bottle shaped like a lemon 😉 You have to find what works for you and keep exploring and trying to add things back into your diet as much as your body allows. And remember fresh lemon juice also has some wonderful health benefits.
Fresh moringa can be quiet difficult to find in stores, so you might need to order it online. I live in the Netherlands, and found a great place where they sell both fresh moringa leaves (only available part of the year) and dried moringa products. So for the people from the Netherlands (they deliver to Belgium and Germany too) Moringa's finest is the place to get your moringa products.. For people in the US you can get them on Amazon, direct link here*. I haven't been able to find a place that sells the fresh leaves in the UK or Australia, but if any of you out there knows of place, please share 🙂 It is however possible to buy whole plants/small trees to plant in your garden or in a big pot. Search around and find what the best option is for you.
If you can't get a hold of fresh moringa leaves, you can either replace them with some watercress or some moringa oleifera leaf powder, which is widely available (links to moringa leaf powder here: US/Amazon.com and UK/Amazon.co.uk)*
*In all disclosure the links to amazon (US and UK) above are affiliate links, which means that if you click on to the product in question and buy it, I get a small commission. This will hopefully help me to cover some of the costs to running this blog. However, this does not cost you anything additional when you order through one of these links.
Print
Green Antihistamine Juice with Moringa
Author:

Prep Time:

10 mins

Total Time:

10 mins

Yield:

2

1

x
---
Ingredients
ca. 40 g fresh moringa oleifera leaves (about 5 branches)
ca

250 g

of celery (

4

–

5

stalks)

1

cucumber

2

apples
ca. 5 g fresh thyme (about a handful)

10 g

of ginger

1/8

of a small lemon (optional)
---
Instructions
Clean and prepare all the ingredients according to the specs of your juicer. I removed the most woody part of the branches.
Juice and enjoy ?
Kid approved too 😉
References: