There is always a lot of parties and festive get together's around this time of year. And since alcohol and histamine intolerance isn't a great combo, I thought I would share a little low histamine drink recipe with you all. A simple and festive lovely pink Low Histamine Drink with Red Love Apples.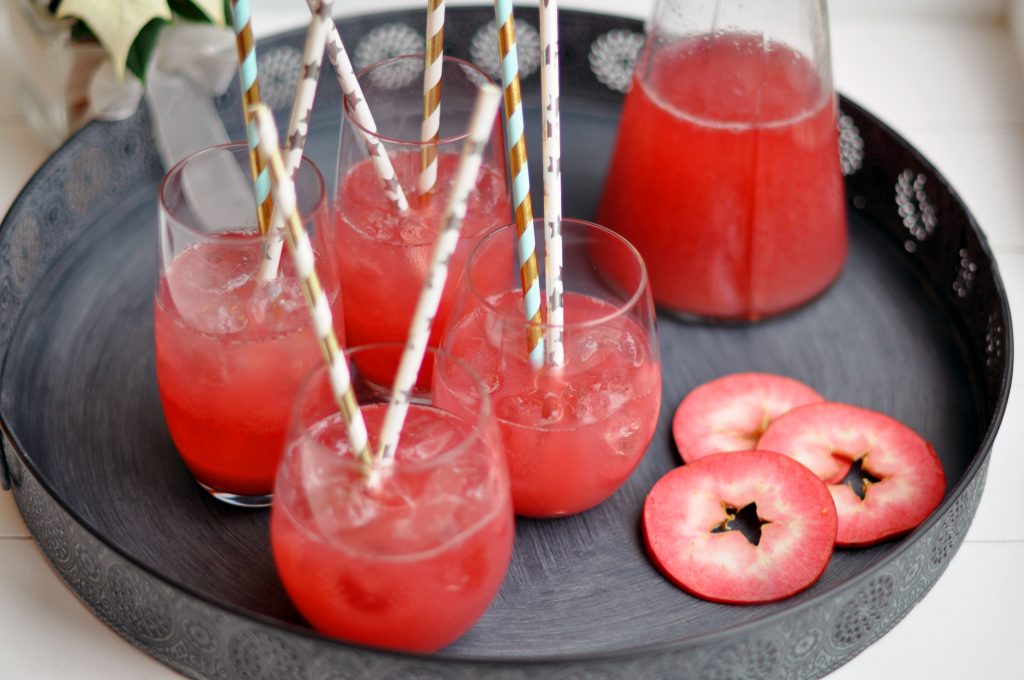 These Low Histamine Drinks with Red Love Apples are made from freshly made fruit juice and some sparkling water, mixed together and poured over ice. Simple yet festive! And I'm in loooooove with the color 🙂 If you don't tolerate sparkling water, you can use regular water instead or simply pour the fruit juice straight over ice as it is. To me, the bubbles are festive, so I like to make my own kind of soda drink like this. This way you have control of the level of sweetness 🙂
The juice in this Low Histamine Drink with Red Love Apples is made from grapes and surprise surprise Red Love Apples. The Red Love Apples is of course responsible for the lovely pink color of the drinks, but they also provide some tartness, which I really like. The grapes provide the sweetness. So we have festive pink drink which is both sweet and sour 🙂
I recently bought a new slow juicer, and I'm still so happy with the one we ended up buying 🙂 It was a bit of a gamble buying a relatively cheap masticating slow juicer from Lidl (brand: SILVERCREST). But it is performing like a dream 🙂 If you are considering investing in a (new) juicer, I found two options on Amazon which I would choose if I should buy a new juicer today (sadly the juicer from Lidl is not available at the time I'm writing this, otherwise I would totally link to that).
---

This is the juicer
I hope to one day
be able to afford:

This is a cheaper
masticating slowjuicer,
similar to the one
I bought from Lidl:

This is the juicer
I hope to one day
be able to afford
(note the pink color):

This is a cheaper
masticating slowjuicer,
similar to the one
I bought from Lidl:

---
How beautiful are these Red Love Apples?? Almost a Christmas decoration on there own 🙂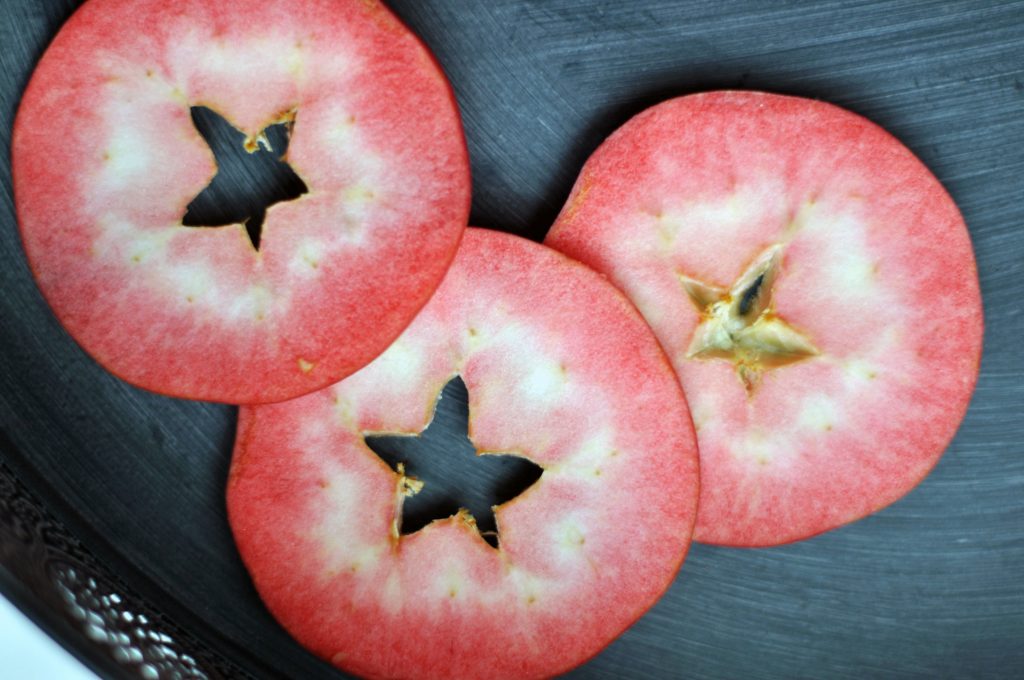 Print
Low Histamine Drink with Red Love Apples
Author:

Prep Time:

10 mins

Total Time:

10 minutes

Yield:

4

-

8

glasses

1

x
---
Description
Simple and festive Low Histamine Red Love Apple Drink. I'm in love with the color – it is so pretty in Pink 😉
---
Ingredients
250 g

green (sweet) grapes (

9 oz

)

2

Red Love apples*

400

ml sparkling water (ca.

2 1/2 cups

)
ice cubes
---
Instructions
Prepare the fruit, according to the specs of your juicer.
Juice the apple and grapes, this makes about 400-500 ml (2 1/2 – 3 cups) depending on your juicer and the size of the apples.
Either mix directly with the sparkling water in a pitcher and then pour over ice in nice drinks glasses. Note it foams quite a bit 🙂 Or pour the fruit juice over ice and add equal amounts of sparkling water.
Add some festive straws and enjoy o/
---
Notes
If you can't get your hand on these lovely Red Love Apples, choose a relatively sour apple instead. The red color can be achieved by adding a little blueberry or cranberry concentrate
In all disclosure the links to amazon above are affiliate links, which means that if you click on to the product in question and buy it, I get a small commission. This will hopefully help me to cover some of the costs to running this blog. However, this does not cost you anything additional when you order through one of these links.