So today will be a relatively simple post….. I will provide you all with a tutorial for how I make my crispy oven baked sweet potato fries. These of course goes great with the carrot ketchup from last week 😉
The trick to getting the sweet potatoes crispy is to cut them out thinly and evenly, then soak them, dry them, coat them with flour, drizzle with olive oil and season. Now that was the extreme short version….. here comes the full tutorial with pictures.
Turn on the oven to about 200 ℃ (390 °F). Peal and cut out the sweet potatoes evenly like match sticks of about 0.5-1 cm thick, then soak them in water for about 20 minutes.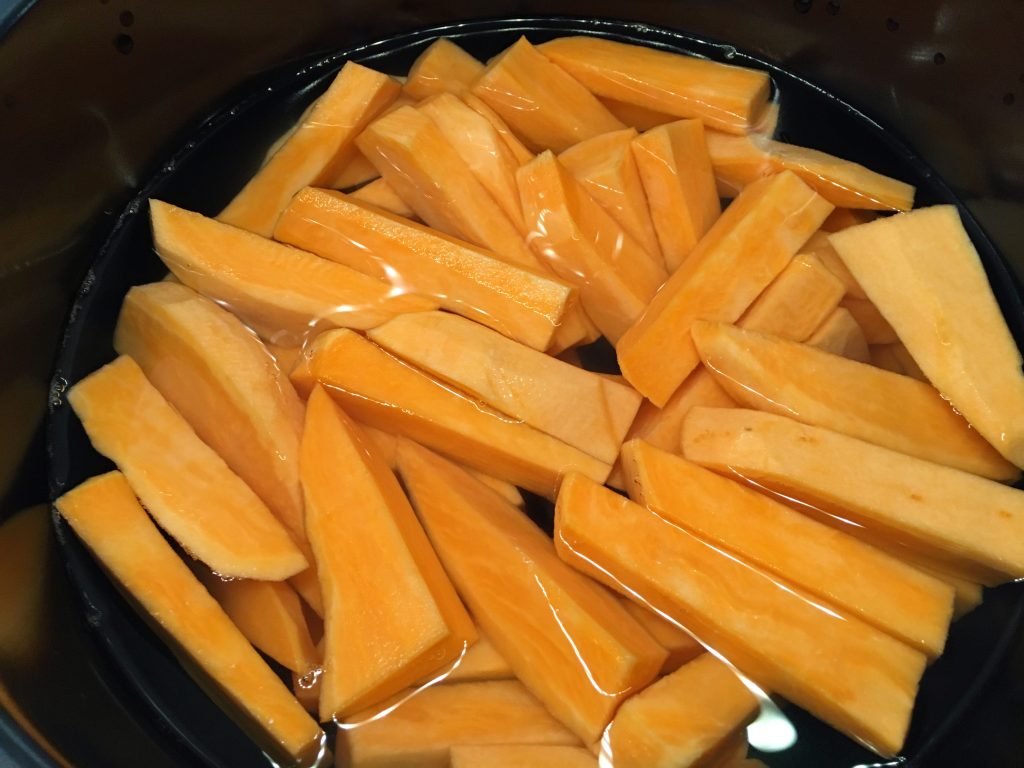 Drain the water, and transfer the sweet potato sticks to a tea towel and pad them dry.
Dry the bowl you used to soak them in and put them back in the bowl with a tbsp of gluten free flour, corn starch or potato starch. You need about one tbsp of flour per big sweet potato. Toss the sweet potato sticks with the flour till they are all evenly coated. Transfer to a baking tray lined with baking parchment.
Discard the excess flour. Sprinkle the sweet potato sticks with olive oil, salt and spices or herbs of your choice. And use the paper to help cover the sweet potato sticks in the oil and seasoning.
Now bake them in the oven. The time needed in the oven varies a bit fro oven to oven. In my oven they need between 45 minutes and an hour, in my moms oven 30 minutes is enough, which means I always end up with burnt fries when I visit my parents 😉 So they need about 45 minutes in the oven. When about half of the time has passed, try to flip the sweet potato fries. Keep an eye on them in the end, to make sure they don't burn. You want them to start turning crispy brown though. Enjoy ?
Print
Oven Baked Crispy Sweet Potato Fries
Author:

Prep Time:

30 mins

Cook Time:

45 mins

Total Time:

1 hour 15 mins

Yield:

2

1

x
---
Ingredients
2

big sweet potatoes

2 tbsp

of gluten free flour, corn flour or potato starch

1 tbsp

olive oil
salt to taste
---
Instructions
Turn on the oven to about 200 ℃ (390 °F).
Peal and cut out the sweet potatoes evenly like match sticks of about 0.5-1 cm thick.
Soak them in water for about 20 minutes.
Drain the water, and transfer the sweet potato sticks to a tea towel and pad them dry.
Dry the bowl you used to soak the sweet potato sticks in and put them back in the bowl with about two tbsp of gluten free flour, corn starch or potato starch (you need about one tbsp of flour per big sweet potato). Toss the sweet potato sticks with the flour till they are all evenly coated. Transfer to a baking tray lined with baking parchment. Discard the excess flour.
Sprinkle the sweet potato sticks with olive oil, salt and spices or herbs of your choice. And use the paper to help cover the sweet potato sticks in the oil and seasoning.
Bake them in the oven for about 45 minutes (every oven is different so keep an eye on them, they might need less or more time in your oven). Flip them when about half of the time has passed.
Keep an eye on them in the end, to make sure they don't burn. You want them to start turning crispy brown though. Enjoy 🙂