This weeks recipe is one that has been with me for while. I love how easy it is to make and how you can use it to empty the refrigerator for veggies at the end of the week. That also means that I rarely make it the same way twice, but the veggie combo which I used in the this recipe is my favorite, both taste wise and color combo wise. As an added bonus, this dish freezes well. If there is any leftovers when I make, I always freeze it down, and then I have an easy lunch for another day. And since I'm currently on a mission to fill up our freezer with easy meals for me, I will be making a bunch of different variations of this dish over the coming few weeks.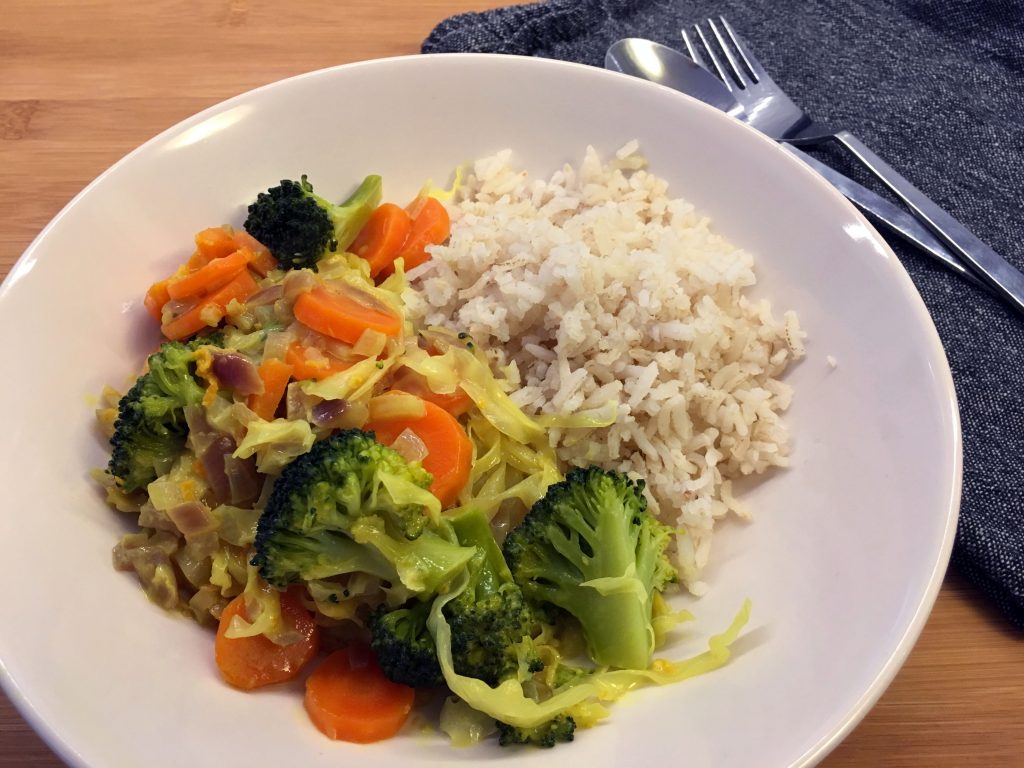 Now for the recipe. It is an adapted version of a recipe by Apollo and Luna. I, in general add more veggies, use spices more suitable for me, and make the coconut sauce thicker. Start out with preparing your veggies. Chop the red onions finely, slice the carrots and cabbage thinly, and wash the broccoli head and cut up the florets in nice bite size pieces. Heat 1 tablespoon of coconut oil over medium low heat, in a large pot (I usually use my wok). Once it's fully melted, add in red onions. Let them simmer until the onions start to be translucent, add a pinch of salt. Add the coconut milk (make sure you get hold of a brand of coconut milk with no nasty additives, like e.g. guar gum). Peel and grate a thumb size piece of fresh turmeric (be aware, this will turn your hands yellow! if you can't get fresh turmeric, use about 1 tsp of dried turmeric), and add 2 kaffir lime leaves (often available frozen in the Asian supermarkets).
Bring it to a boil, and let the spices really infuse the coconut milk with color and flavor. Lower the heat and add in the cabbage and carrots, and let it simmer for about 10 minutes under a lid (if you don't have a lid for your wok, just place a big lid on top of the veggie-coconut mix, that is what I do). After ten minutes, add in the broccoli florets, give it a good stir and let everything simmer for another 5-10 minutes. When the vegetables are tender, take of the lid and if you want the coconut sauce to be a bit thicker, just reduce it at higher heat, under stirring for 1-2 minutes. Salt to taste.
Serve with some whole grain rice and which ever garnish you like. We really like to sprinkle some freshly dry roasted seed and nut mix. I like to use macadamia nuts, sesame seeds, and nigella sativa seeds (black cumin) which is a anti histamine and anti oxidant. So double bonus, both great taste and some added anti histamine.
Print
Turmeric, Coconut and Veggie Rice Bowl
Author:

Prep Time:

5 mins

Cook Time:

30 mins

Total Time:

35 mins

Yield:

3

-4

1

x
---
Ingredients
2

red onions (or white onions)

3

–

4

carrots (ca

200 g

)

1/4

pointed white cabbage (or white cabbage, ca

150 g

)

1/2

a head of broccoli (ca

150 g

)
A thumb size piece of fresh turmeric root (or 1 tsp of dried turmeric powder)

2

kaffir lime leaves
salt to taste

400

ml coconut milk

150 g

whole grain rice (cook according to the instructions on the package)

20 g

Macadamia nuts

20 g

Pecan nuts (optional)

1 tbsp

sesame seeds

1 tsp

nigella sativa seeds
---
Instructions
Prepare the vegetables, chop the red onions finely, slice the carrots and cabbage thinly, and wash the broccoli head and cut up the florets in nice bite size pieces.
Heat 1 tablespoon of coconut oil over medium low heat, in a large pot (I usually use my wok). Once it's fully melted, add in the red onions. Let them simmer until they start to be translucent, add a pinch of salt.
Add the coconut milk. Peel and grate a thumb size piece of fresh turmeric (be aware, this will turn your hands yellow! if you can't get fresh turmeric, use about 1 tsp of dried turmeric), and add 2 kaffir lime leaves. Bring it to a boil, and let the spices really infuse the coconut milk with color and flavor.
Lower the heat and add in the cabbage and carrots, and let it simmer for about 10 minutes under a lid (if you don't have a lid for your wok, just place a big lid on top of the veggie-coconut mix, that is what I do).
After ten minutes, add in the broccoli florets, give it a good stir and let everything simmer for another 5-10 minutes. When the vegetables are tender, take of the lid and if you want the coconut sauce to be a bit thicker, just reduce it at higher heat, under stirring for 1-2 minutes.
Chop the nuts finely and roast them together with the seeds on a dry pan, until the macadamia nuts start to take color. Remove the pan from the heat immediately and transfer the nut seed mix to a bowl.
Serve with whole gran rice. Enjoy. (The nutrition facts are calculated based on 1 out of 3 servings)