Update: Please note that collagen can be an issue for some people with histamine intolerance, and is not suitable during the elimination phase.
The weather is getting warmer again and it is high time for another smoothie recipe here on the Histamine Friendly Blog 😀 This smoothie recipe is filled with gut healing collagen protein and fresh delicious blueberries 🙂 It is creamy, filling and pack a little anti inflammatory ginger as well. Say Hallo to this beautiful High Protein Blueberry Smoothie Bowl.
I love making smoothie bowls – mostly because I can decorate them before I eat them. While some people take smoothie bowl decoration to a whole other level and almost turns it into a form of art. Mine are a bit more minimalistic. I love to decorate them with edible flowers from my garden. Currently the Forget Me Not flowers are blooming and they brighten up any smoothie bowl with the simple blue beauty.
Making the smoothie bowl is simple and quick. I mostly make smoothie during the week days, when the mornings are busy and hectic and save the smoothie bowls for the weekend, since eat them with a spoon rather than drinking them forces you to slow down a bit. Added bonus! In my book – but sadly not always a luxury I have. What are your breakfast routines like?
Print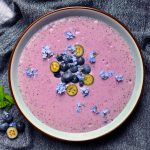 High Protein Blueberry Smoothie Bowl
Author:

Prep Time:

5 min

Total Time:

5 minutes

Yield:

1

1

x
---
Description
This High Protein Blueberry Smoothie Bowl is deliciously creamy. And filled with gut healing goodies 🙂
Update: Please note that collagen can be an issue for some people with histamine intolerance, and is not suitable during the elimination phase.
---
Ingredients
1 cup

fresh blueberries (ca.

160 g

)

1 cup

frozen cauliflower (

120 g

)*

1/2 cup

yoghurt (

120

ml)*

1/4 cup

protein powder (ca

25 g

)*

1

–

2

medjool dates (depending on how sweet you want it)*

1/4 tsp

cinnamon

2 g

/ 0.04 oz fresh ginger (grated or in thin slices)
---
Instructions
Add all of the ingredients to a (high-powered) blender and blend til you get a thick smooth and creamy smoothie.
Transfer to a pretty bowl and decorate as you wish 🙂 Enjoy 😉
---
Notes
I use store bought frozen cauliflower. If this is not a available to you, you can lightly steam fresh cauliflower florets and then freeze them down
I use goat yogurt – simply because I tolerate it better than cows yogurt. You can also replace this by a tolerated vegan yogurt. If you don't tolerate any store bought yogurts you can try and make your own using histamine friendly probiotic strains. Or simply leave it out, this will however effect the taste of the smoothie.
I used the collagen protein powder from Vital
Note if you prefer to drink this as a smoothie – just add 1 cup (plant based) milk of choice.
If you can't do dried fruits of any kind, then replace the dates with a little honey/ or liquid sweetener of choice.
In all disclosure the link to amazon above are affiliate links, which means that if you click on to the product in question and buy it, I get a small commission. This will hopefully help me to cover some of the costs to running this blog. However, this does not cost you anything additional when you order through one of these links.