It is high time for another soup recipe here on my blog again. And when I saw the brand new and fresh white asparagus grown here in the Netherlands lie in the supermarket last weekend – I was like: Spring is here, time for some spring in a bowl aka "Low Histamine Asparagus Soup" 😀
Some of you might have noticed that this post is a bit later than normal. I aim to post a new recipe every Thursday, but yesterday (Thursday) I started the day with falling down the stairs in my house :S Writing this, it sounds significantly more dramatic than it was….. I guess it was more of a slip than a fall and luckily I caught myself about half way down. All in all this meant that yesterday went significantly different than I had expected and that I ended up lying down and falling asleep early -> no time/energy yesterday to write this weeks blog post.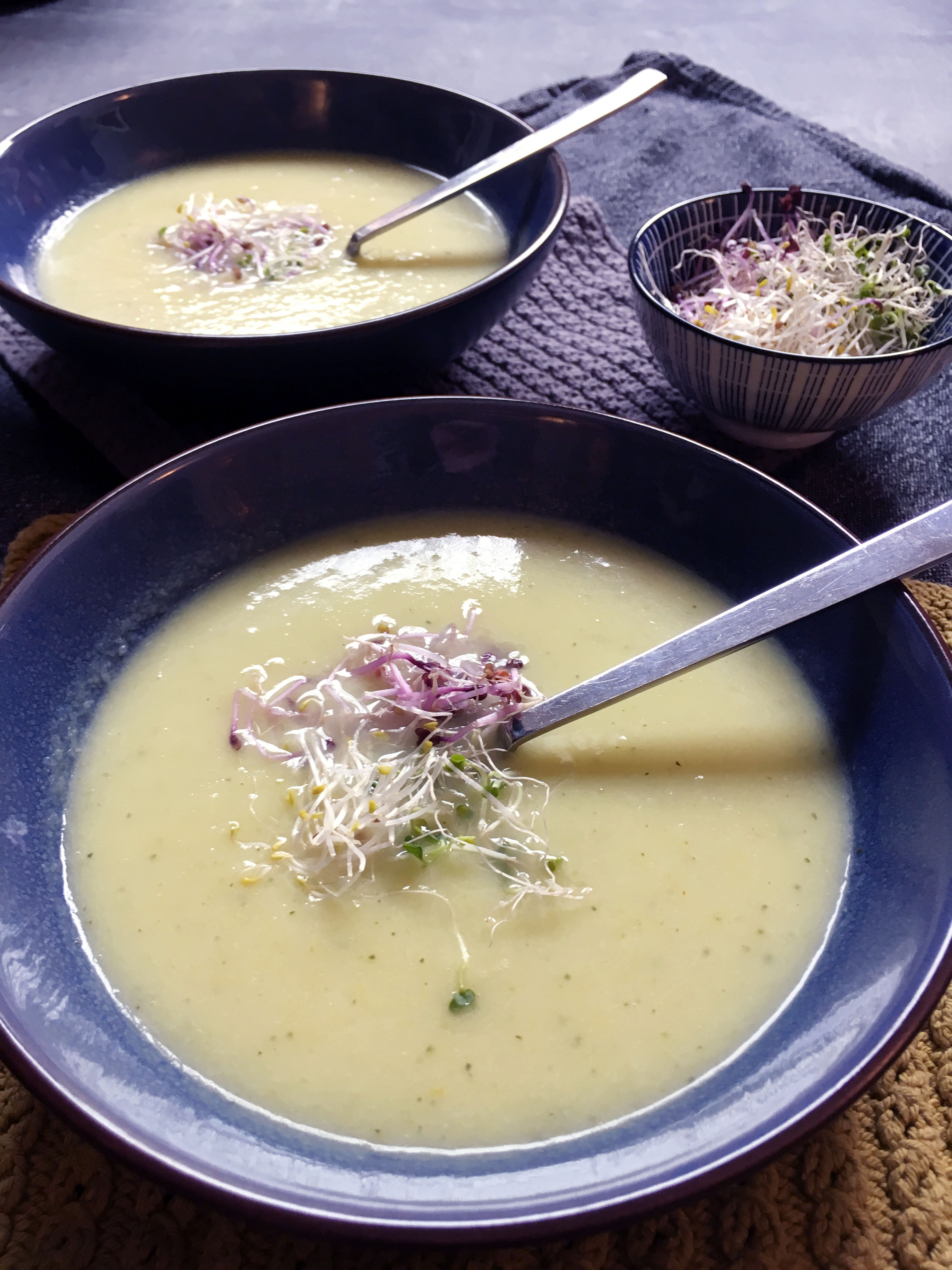 Today (Friday) I have been up and running again, although covered in big blue marks all over. Dinner was something quick and easy from the freezer, and boy how I wished I had had some of this soup yummy Low Histamine Asparagus Soup in the freezer. So much so that I'm definitely going to make a huge portion again this weekend. Love love looooooveeeee asparagus season. And I guess it is pretty apparent by now that I'm a huge soup lover too, so the combo can only be great 😀
When I make this soup I start out by slicing up the leek, and chopping up the onion and celery roughly. Add a little oil to a big pot and fry up the onion, celery and leek. Once it gets going and the onion starts to turn translucent, turn down the heat and put the lid on. Let it cook for a bout 10 minutes while you clean and prep the asparagus. Remove the bottom woody part of the asparagus. To do this simply break of the end, it automatically breaks just where the woody part ends and the fresh, juicy asparagus begins. Peal the asparagus, and cut them into smaller pieces. Cut the zucchini into similar size pieces and add the asparagus, zucchini and (tolerated) vegetable bouillon to the pot.
Let it cook for about 20 minutes, then blend it with a hand held blender until it is really smooth. Salt to taste and enjoy this spring in a bowl kind of soup <3
Print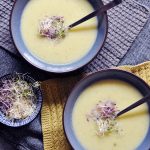 Low Histamine Asparagus Soup
Author:

Prep Time:

5 min

Cook Time:

30 min

Total Time:

35 minutes

Yield:

2

-4

1

x
---
Description
Yummy Low Histamine Asparagus Soup – Spring time in a bowl <3
---
Ingredients
500

–

600

g asparagus, cleaned, and pealed (ca.

20 oz

)

1

–

2

white onions (

180 g

/

6.5 oz

)

1

leek (140 g / 5 0z)

2

celery stalks (

130 g

/

4.5 oz

)

1/4

–

1/2

zucchini (ca

100

–

150

g /

3.5

–

5

oz)

1

L vegetable bouillon (ca.

4 cups

)
salt to taste
---
Instructions
Start out by slicing up the leek, and chopping up the onion and celery roughly.
Add a little oil to a big pot and fry up the onion, celery and leek. Once it gets going and the onion starts to turn translucent, turn down the heat and put the lid on. Let it cook for a bout 10 minutes while you clean and prep the asparagus.
Remove the bottom woody part of the asparagus. To do this simply break of the end, it automatically breaks just where the woody part ends and the fresh, juicy asparagus begins. Peal the asparagus, and cut them into smaller pieces.
Cut the zucchini into similar size pieces and add the asparagus, zucchini and (tolerated) vegetable bouillon to the pot.
Let it cook for about 20 minutes, then blend it with a hand held blender until it is really smooth.
Salt to taste and enjoy this spring in a bowl kind of soup <3