This weeks post marks a YEAR of blogging for me. And I want to celebrate that with some Naturally Green Histamine Friendly Muffins 🙂 These Pretty In Pink Green Muffins are so cute, they taste divine, are deliciously moist and has hidden veggies inside 🙂 What more can you ask for? Oh YES! Chocolate – so I added some white chocolate chips to the mix too 😉 \o/
This recipe is adapted over multiple steps from my sons favorite green cupcake recipe. But as the original recipe includes both spinach and banana, some changes has been made along the way. And many different replacements for spinach has been tested 😉 Of which my favorite is baby Swiss chard. But (baby) kale works just fine as well 🙂 I even tried replacing the spinach with basil, but if all of the spinach is replaced by basil, the taste of the basil becomes too strong.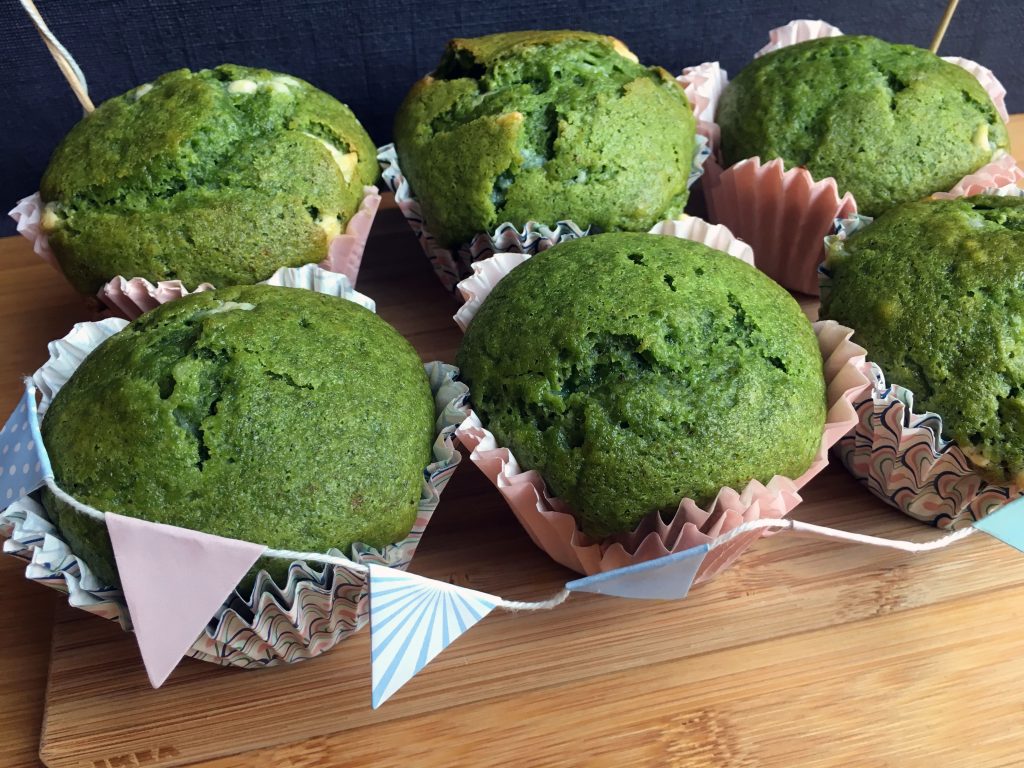 The muffins are really easy to make. Just combine the dry ingredients (flour, baking powder, baking soda, salt and vanilla) in a bowl and mix them well. Add all of the wet ingredients (milk, honey, oil and egg) to a blender together with the leafy greens and zucchini. Yes zucchini! It adds a lot of moisture and texture to the muffins, and makes sure that the cake stays moist and delicious for days! Adding zucchini to cake, is THE best idea ever 😀 Blend the wet ingredients and the vegetables together till they form a smooth vibrant green liquid.

Now simply pour the green liquid in to the bowl with the dry ingredient. And stir gently to combine everything well. Now add your add ins of choice. I like to add (white) chocolate chips and chopped up (tolerated) nuts. My boys prefer it without the nuts though, so I often leave them out. Fold in the add ins, and distribute your batter evenly in your muffins shapes. Bake in a preheated oven, at 180°C (360°F) for 15-20 minutes, or ca 45 minutes if you are baking a cake instead of muffins. Use a toothpick to check if they are ready. When the toothpick comes out clean, they are done.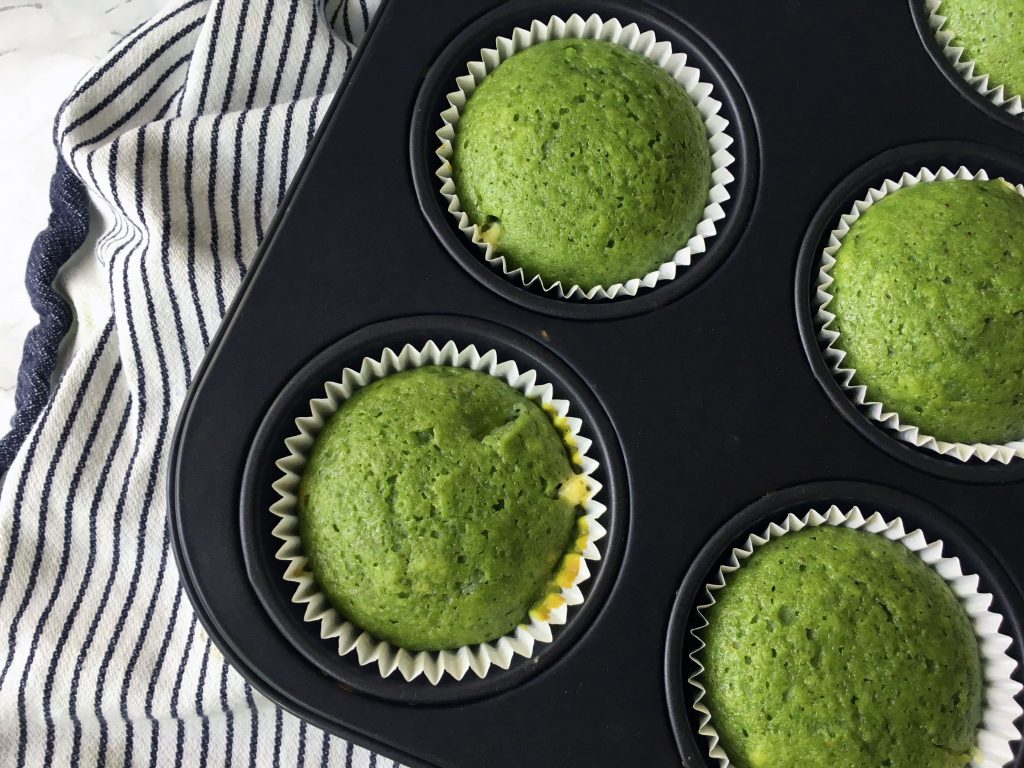 I usually bake half a portion of this recipe, using 2 quail eggs. Half a portion yields 10-12 muffins, or 6 big muffins like the ones shown in the celebration pictures here. You can also bake a cake instead of muffins, in that case I usually use a round bake tin of 24 cm in diameter (ca. 9,5 ") for this recipe. This weekend I plan on turning this recipe into a dinosaur shaped birthday cake for my oldest, who is turning 5. Wish me luck, as I'm not a huge wizard with frosting/decorating cakes 😉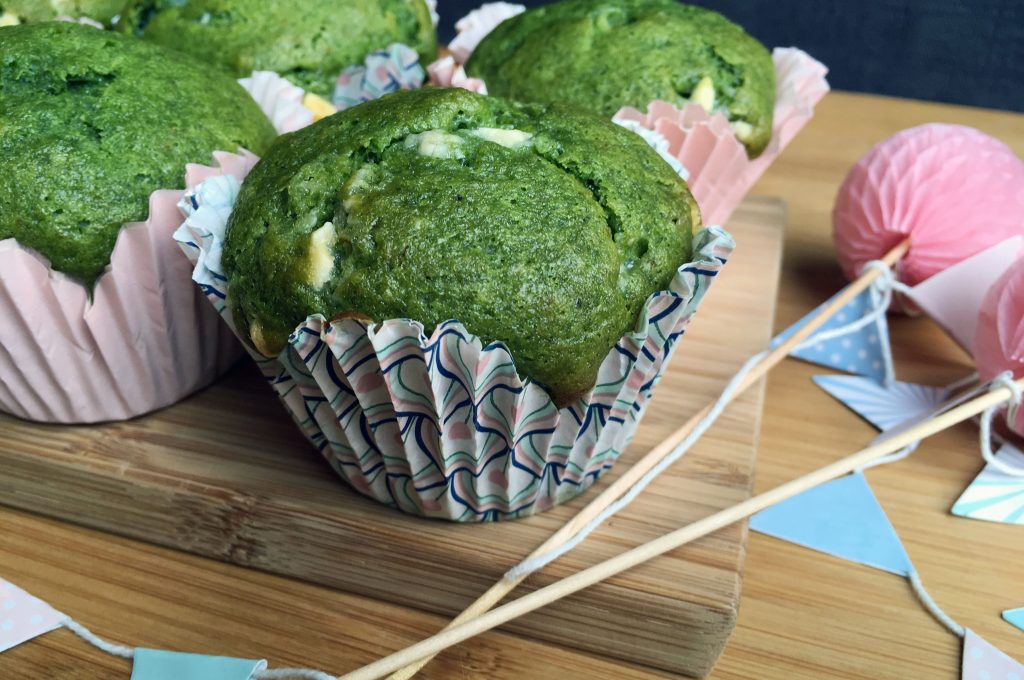 Histamine Friendly Green Muffins
Author:
Tania Surrow Larsen - The Histamine Friendly Kitchen
Ingredients
2 cups tightly packed spelt flour (ca. 300 g)
2 tsp baking powder
½ tsp baking soda
¼ tsp salt
½ tsp vanilla powder
2 tbsp (plantbased) milk of choice
⅔ cup of honey (160 ml)*
½ cup olive oil (120 ml)
4 quail eggs or one 1 chicken egg
5,3 oz baby Swiss Chard (150 g)**
5,3 oz zucchini (150 g)
Optional add ins:
(white) chocolate chips
chopped up tolerated nuts - I like macadamia nuts or pecans
* If you prefer to not use honey, you can replace it with any liquid sweetener. Be aware of the color though. I once made it with date syrup, which is very dark and thus turned the cake into a more army green/brown color.
** You can also use (baby) kale, cavolo nero/lacinato kale, a mix of different leafy greens and herbs like basil and lemon balm.
Instructions
Preheat the oven to 180°C (360°F)
Combine the dry ingredients (flour, baking powder, baking soda, salt and vanilla) in a bowl and mix them well.
Add all of the wet ingredients (milk, honey, oil and egg) to a blender together with the leafy greens and zucchini. Blend the wet ingredients and the vegetables together till they form a smooth vibrant green liquid.
Now simply pour the green liquid in to the bowl with the dry ingredient. And stir gently to combine everything well.
Fold in your add ins of choice.
Distribute your batter evenly in your muffins shapes. I use an ice cream scoop to do this.
Bake for 15-20 minutes at 180°C (360°F), or ca 45 minutes if you are baking a cake instead of muffins.
Use a toothpick to check if they are ready. When the toothpick comes out clean, they are done.
Let them cool down, before you dig in. Enjoy
If you love these Naturally Green Histamine Friendly Muffins – You might like these recipes: