It has been a little too quite here on the blog lately, as I have been going through a little "writers block" I guess, plus prioritized other projects ….. or procrastinated writing who knows. While I by no means see myself as a writer of any sorts, I still have to actually type words into the computer to share my recipes with all you guys. Sometimes the magic happens and a post is written in less than an hour and other times it is a totally different story and more than a month passes by since my last post, like now. Even though this Radiant Salad Bowl with Crunchy Croutons recipe has been ready for a while already.
While I may never identify as a writer, I do identify as a mom, a wife (even though I'm not married), a creative girl/women (I guess I'm too old now to be a girl ;)), a recipe developer, someone who is trying to learn and get better at food photography, a friend, a sister (oh how I miss my sister, who is actually a writer! and who helps me edit the photos for this blog, but who lives half a world away from me), a daughter, a software tester (yes that's my job, since about a year ago and I love it), and last but not least someone who tries to inspire…..
At least that is why I created this blog in the first place. To inspire people who finds themselves in the same place I was years ago! New to an overwhelming elimination diet and not being able to see any possibilities about what to eat, but just feeling crushed by the limitations. While mourning (yes mourning) the loss of an old life, health, energy, and beloved foods. That was a time in my life where I needed to be inspired, needed to find inspiration in food again despite being on a strict elimination diet.
Rather than aiming to be a writer, or blogger even, I aim to inspire you guys with delicious looking and tasting histamine friendly food. And hopefully help some of you through some rough parts of dealing with histamine intolerance in the process. A bunch of you guys, or girls actually, since most of you are women, have reached out to me over the years through various means, and it has been truly amazing to connect with all of you. And honestly I'm also very thankful to know that my recipes and words are reaching people out there in the world beyond my kitchen, living room and computer screen.
But enough talk about me for now….. Aren't those radishes just gorgeous? The magic of this salad actually began with goat ghee. Last year I went on a little trip on my own to soak in some much needed ocean time. Long walks at the beach is my soul medicine, for real! And lets face it sometimes a girl/women/mom/human being just needs a little therapy for the soul….. (okay so apparently I wasn't done sharing stuff about me yet). One of the very few things I had brought with me on this trip was a little jar of goat ghee. I had just bought it, never tried it, and not even opened the jar before packing it in my bag. But damn am I happy I brought it, because that's when I discovered the magic of goat ghee and the most epic croutons ever.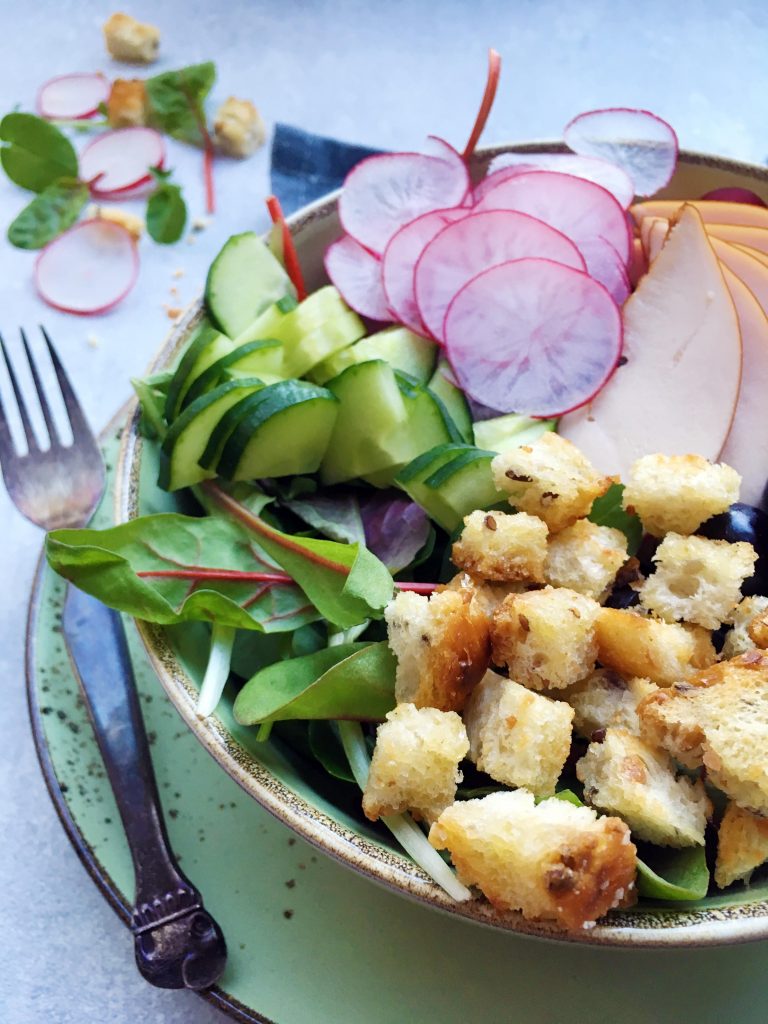 I had bought random things in the supermarket with no clear goal, but together with the yummy crunchy croutons it all came together to form a really nice and balanced salad.
Print
Radiant Salad Bowl with Crunchy Croutons
Author:

Prep Time:

5 min

Cook Time:

5 min

Total Time:

10 minutes

Yield:

1

pers

1

x
Category:

Salad
*In all disclosure the links to amazon above are affiliate links, which means that if you click on one of the products in question and buy it, I get a small commission. This will hopefully help me cover some of the costs to running this blog. However, this does not cost you anything additional when you order through one of these links.