Zoodles or zucchini noodles is great way to eat zucchinis, which are very much in season right now here in The Netherlands where I live. It is also a good spaghetti replacement if you are grain free, gluten free, low carb or just plain into getting more veggies on your plate. I like to eat them with some Low Histamine Pesto, but then I again I'm a big fan or everything pesto and make it a LOT :o)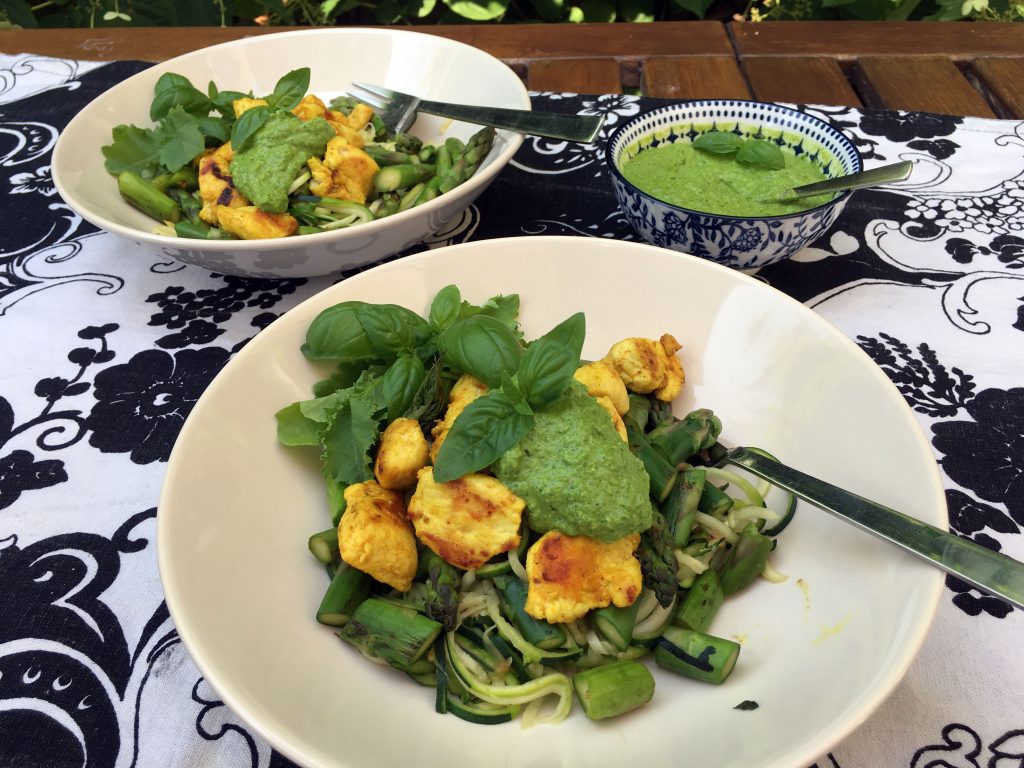 This dish is a variation of a meal my sister made for us last time we were all together at my parents place in Denmark. Which was very yummy, but did contain a few ingredients, which I don't do so well with. I started thinking about the dish this week, because the basil in my garden was looking so big and delicious, just screaming EAT ME! EAT ME!…… So I did ;D
As for the zoodles, you do need some kind of tool to make the zoodles with….. or massive amounts of patience and some good knife skills. I have a very primitive spiralizer, which gets the job done, at least in the case of zucchinis. I'm not sure how it would do with harder vegetables like carrots, though. If you don't already have a spiralizer, they are easy to find in stores and online these days. Here is a link to a simple spiralizer on Amazon (US/Amazon.com and UK/Amazon.co.uk). In all disclosure the links to amazon (US and UK) are affiliate links, which means that if you click on to the product in question and buy it, I get a small commission. This will hopefully help me to cover some of the costs to running this blog. However, this does not cost you anything additional when you order through one of these links.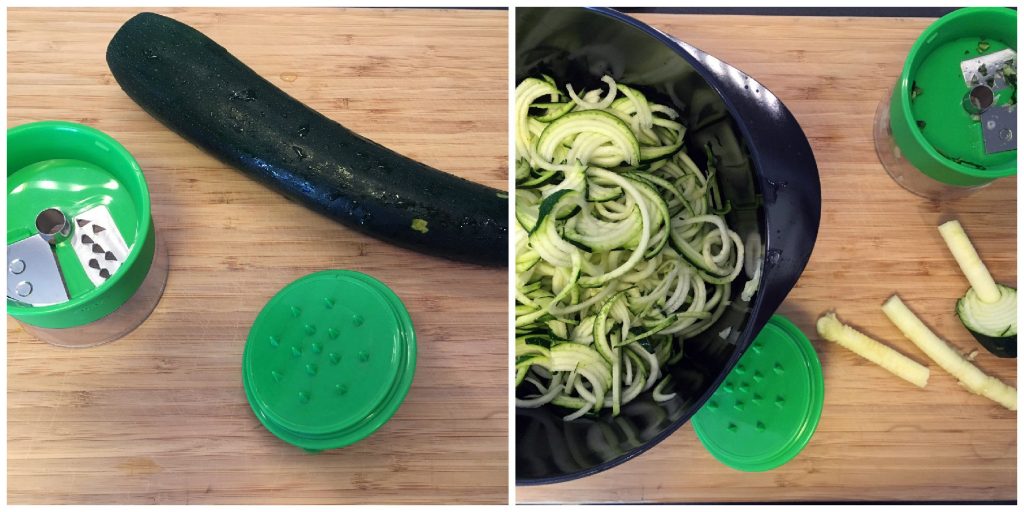 Start by making the zoodles. Clean your zucchini and cut off the ends and attach it to your spiralizer, and start making the zoodles. With most spiralizers you end up with a "core stick", instead of trowing it out, you can add it to the pesto. You can eat the zoodles raw, if you like. But I prefer to saute them really quick. Just 1 minute with a little olive oil. Next prep the asparagus, and saute them in the same pan as the zoodles, once the zoodles are done. I prefer the asparagus to still have bite, I give them about two minutes at medium heat. You will see that the green color gets even brighter green.
Set the zoodles and the asparagus aside. Add a little oil to the pan together with some turmeric and add in the chicken. Fry the chicken till you are sure it is well done. Make sure you give it a good stir, so that all of the chicken gets coated in the lovely yellow goodness of the turmeric.
While the chicken is frying make the low histamine baby kale pesto. Add the baby kale, a handful of fresh basil, some lemon thyme, 2 spring onions, a handful of macadamia nuts, a pinch of salt and some olive oil to a container that fits a hand held blender (or a food processor). Also add in the part of the zucchini which was left over from the spiralizing (no food waste :)). Blend the pesto till you get the consistency you prefer. You can add a bit more oil, if you want it more fluid.
Distribute the zoodles and asparagus evenly over two plates, and top with the turmeric fried chicken and the Low Histamine Baby Kale Pesto. If you by don't use all of the pesto, you can save the rest in the freezer for another time. I also like to use pesto as a veggie spread, or a dip (it is great mixed with a little yogurt together as a dip for my Oven Baked Crispy Sweet Potato Fries). I also like to use pesto as a base sauce for pizza, I hope to be able to share a couple of pizza recipes with you all soon.
I have made this for my kids as well, and I got some mixed reviews…. the youngest is in general quite forgiving and likes both the zoodles part and the turmeric chicken. The oldest however wasn't a huge fan, but ate the zoodles. So I guess this is more of a dish just for me to enjoy 🙂 But that's okay – some mommy quiet time lunch is never bad 😉 Especially when it is as deliciously healthy as this. So dig in and Enjoy 🙂

Zoodles with Low Histamine Pesto and Turmeric Chicken
Author:
Tania Surrow Larsen - The Histamine Friendly Kitchen
Ingredients
1 zucchini
ca. 100 g asparagus
100-120 g chicken breast, cut into cubes
¼-1/2 tsp turmeric
1 tsp of (extra virgin) olive oil
Low Histamine Pesto:
40 g baby kale
20 g fresh green basil
2 spring onions (or garlic if you wish)
2-3 'twigs' of lemon thyme (or regular thyme)
20 g macadamia nuts (raw and unsalted)
5 tbsp (extra virgin) olive oil
a pinch of salt
the core of the zucchini left over from the spiralizing (optional)
Instructions
Start by making the zoodles. Clean your zucchini and cut off the ends and attach it to your spiralizer, and start making the zoodles. With most spiralizers you end up with a "core stick", instead of trowing it out, you can add it to the pesto.
Saute the zoodles really quick. Just 1 minute with a little olive oil. set aside.
Next prep the asparagus, and saute them in the same pan as the zoodles, once the zoodles are done. I prefer the asparagus to still have bite, I give them about two minutes at medium heat. You will see that the green color gets even brighter green. Set aside.
Add a little oil to the pan together with the turmeric and add in the chicken. Fry the chicken till you are sure it is well done. Make sure you give it a good stir, so that all of the chicken gets coated in the lovely yellow goodness of the turmeric.
While the chicken is frying it is time to make the low histamine baby kale pesto. Add the baby kale, a handful of fresh basil, some lemon thyme, 2 spring onions, a handful of macadamia nuts, a pinch of salt and some olive oil to a container that fits a hand held blender (or use a food processor). Also add in the part of the zucchini which was left over from the spiralizing (no food waste :)).
Blend the pesto till you get the consistency you prefer. You can add a bit more oil, if you want it more fluid.
Distribute the zoodles and asparagus evenly over two plates, and top with the turmeric fried chicken and the Low Histamine Baby Kale Pesto. Dig in and enjoy \o/
IF YOU LOVE THIS Zoodles with Low Histamine Pesto and Turmeric Chicken recipe – YOU MIGHT ALSO LIKE: