I had originally planned this post for next weeks valentine day. But a nasty influenza virus conquered our house last week, and ruined everything called planning. So this post is coming a week earlier than planned, and if I hadn't said something nobody would ever have known 😉 Planning is sometimes a funny thing. I think one of the most valuable lessons I have learned during the last couple of years, is to NOT plan so much. I used to think that if I just planned better, my life would run much more smoothly, and I would be one of those moms who has a handle on everything. Truth be told that didn't happen, and I would always blame myself for not having planned better. So when I realized that all my planning was stressing me out (not good for anybody, let alone my health), I stopped planning everything little thing.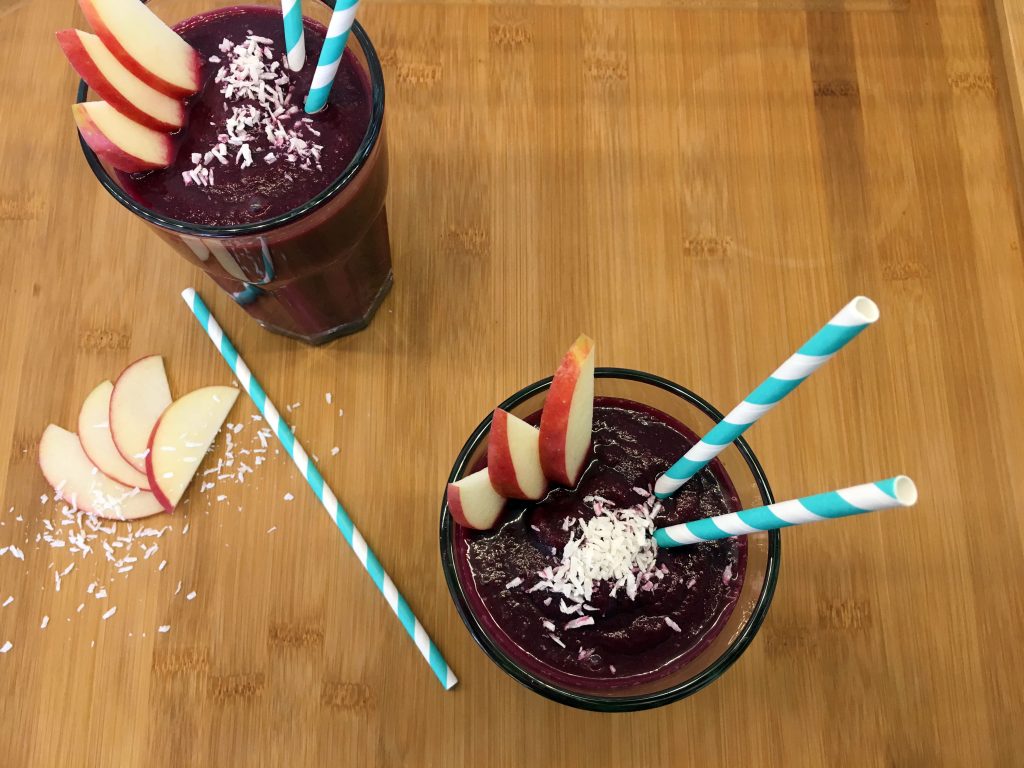 Now in the spirit of full disclosure, I'm still not one of those moms who has a handle on everything, but that is okay! Because I'm way less stressed out and get much more done now than I used to, and forget about way less stuff as well. And funny enough, the plan I'm most happy to be rid of is the weekly food plan. Instead of planning every meal like I used to, I buy what looks good and speaks to me at the grocery store/market. And then I cook what I get inspired to cook when I open up the refrigerator. So out with planning and in with some lovely inspiration 🙂
Now for the recipe 🙂 Clean and boil the beets, you can do this the evening before if you want. Depending on the size of the beets it takes between 30-60 minutes for them to be ready. If you choose to cook the beets right before making the smoothie, let them cool down before adding them to your blender. Add all the ingredients to a (high power) blender, and blend till it is smooth. Depending on how much liquid you choose to use, you can either drink this as a regular smoothie or eat it as a smoothie bowl. Smoothie bowls are great for letting some creativity loose in terms of toppings 🙂 Spending a little extra time on making your food look great, is really worth the effort. I spend so much time taking care of others (read my kids and hubby…..) that spending time making my food look pretty, makes me feel like I'm pampering myself extra much 🙂 And we could use a bit extra self pampering. Love and care for yourself first 🙂 Enjoy.
Print
Beet Love Smoothie
Author:

Prep Time:

5 mins

Total Time:

5 mins

Yield:

2

1

x
---
Ingredients
Ca. 150 g red beet (boiled, cleaned and cooled to room temperature)

2

apples (deseeded)

70 g

(frozen) cauliflower
Ca. 50 g leafy greens (I used red salad baby leafs for this one, but arugula is my favorite for smoothies)

1

date (optional, omit if you prefer your smoothie less sweet)

2

–

2 1/2

cup of almond milk (or liquid of choice) (if making a smoothie bowl, add

1 cup

less)
---
Instructions
Add all ingredients to your blender, and blend till smooth.
Enjoy 🙂 The nutritional facts are based one serving out of two.