Here comes another histamine friendly vegan recipe for you, namely chia seed pudding. Chia seed pudding, is often one of those things that separate the world into lovers and haters. I'm definitely a big chia seed pudding lover. The rest of my family not so much. Which I honestly don't really mind, because it means that when I make this for breakfast I actually get to keep it to myself 🙂 So it has become a quiet time breakfast ritual in the weekends for me. I wait till the kids are done eating and the first morning craziness is over, before I make myself a cup of tea and prep the chia seed pudding. Then I can sit down quietly (or as quiet as weekends can be when you have two kids age 1-4) and just enjoy eating my freshly prepared breakfast, without having kids demanding a taste left and right 😉
I used to make my chia seed puddings with banana, but since I cut out bananas from my diet that doesn't really work anymore. After that it has taken me some time to find the right combo, both in terms of taste and thickness. But now that I have, the recipe below is the one I use as a basic recipe almost always, and then I variate the tastes and textures with different toppings.
Chia seed puddings are often made by leaving it overnight in the refrigerator. This might prove as a problem for many people with Histamine Intolerance. But it is actually not necessary. If you follow the ratio for liquid to chia seeds in my recipe, it will set within 5-10 minutes. For me that means I can mix the pudding, place it in the fridge to set, prepare my toppings (and make a cup of tea ;)), and by the time I'm ready to add the toppings the pudding has set.
I prefer using date syrup as a sweetener. In my opinion it gives it a less "in your face" sweetness than honey, more round and fruity. But the choice is of course completely yours. If you use the date syrup, it gives the chia seed pudding a more light rose color, which I quite like 🙂 The picture above shows the color difference between using honey (left jar, made with white chia seeds) and date syrup (right jar, made with dark grey chia seeds).
Now what to do: Add almond milk or another (plant based) milk of your choice, chia seeds, sweetener of your choice, vanilla essence and a pinch of salt to a container with a tight lid. Then put the lid on tightly and shake it all up until all the syrup has been dissolved, see picture above 😉 It is very clear when you are done, especially if you use a dark colored syrup like I did. Then place it in the refrigerator until you are done making your toppings. Note that if you want to serve the chia seed pudding as a dessert rather than just eating it for breakfast on your own, it is a good idea to transfer the chia seed pudding to the containers you want to serve it in, right after mixing it and before you let it rest in the refrigerator. This will give it a more smooth surface, see the pictures below, the one on the right has been poured over right after mixing and before going to the refrigerator.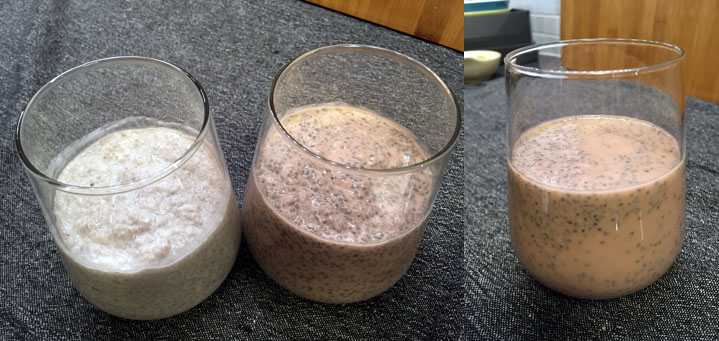 Now for the toppings. Add the (frozen) blueberries, blackberry jam (optional) and water to a small pot. Cook the blueberries, until they have turned into "blueberry sauce", stir occasionally. Meanwhile chop up the macadamia nuts and dry roast them on a pan until they start to brown. Turn of the heat and keep stirring while they roast on, on the hot pan. Transfer to a bowl when you are happy with the color. Don't try to multitask while roasting the nuts. It goes very fast, and they get black really quick. Trust me on this, I have burned more than one batch by now. Serve it up, and enjoy 🙂
Print
Quick Chia Seed Pudding with Blueberry Sauce and Roasted Macadamia Nuts
Author:

Prep Time:

5 mins

Cook Time:

10 mins

Total Time:

15 mins

Yield:

1

1

x
---
Ingredients
1 cup

almond milk (or milk of choice)

4 tbsp

chia seed

1 tbsp

date syrup

1/2 tsp

vanilla essence
a pinch of salt
Toppings:
100 g

(frozen) blue berries

1 tbsp

blackberry jam (optional)

1 tbsp

water

20 g

macadamia nuts (ca

10

nuts)
---
Instructions
Add almond milk or other (plant based) milk of your choice, chia seeds, date syrup, vanilla essence and a pinch of salt to a container with a tight lid.
Close the lid tightly and shake it all up until all the syrup has been dissolved.
Then place it in the refrigerator until you are done making your toppings. (Note that if you want to serve the chia seed pudding as a dessert rather than just eating it for breakfast on your own, it is a good idea to transfer the chia seed pudding to the containers you want to serve it in, right after mixing it and before you let it rest in the refrigerator. This will give it a more smooth surface.
Now for the toppings. Add the (frozen) blueberries, blackberry jam (optional) and water to a small pot. Cook the blueberries, until they have turned into "blueberry sauce", stir occasionally. Meanwhile chop up the macadamia nuts and dry roast them on a pan until they start to brown. Turn of the heat and keep stirring while they roast on, on the hot pan. Transfer to a bowl when you are happy with the color.
Serve it up and enjoy 🙂 (the nutrition data is based on one person eating it all)